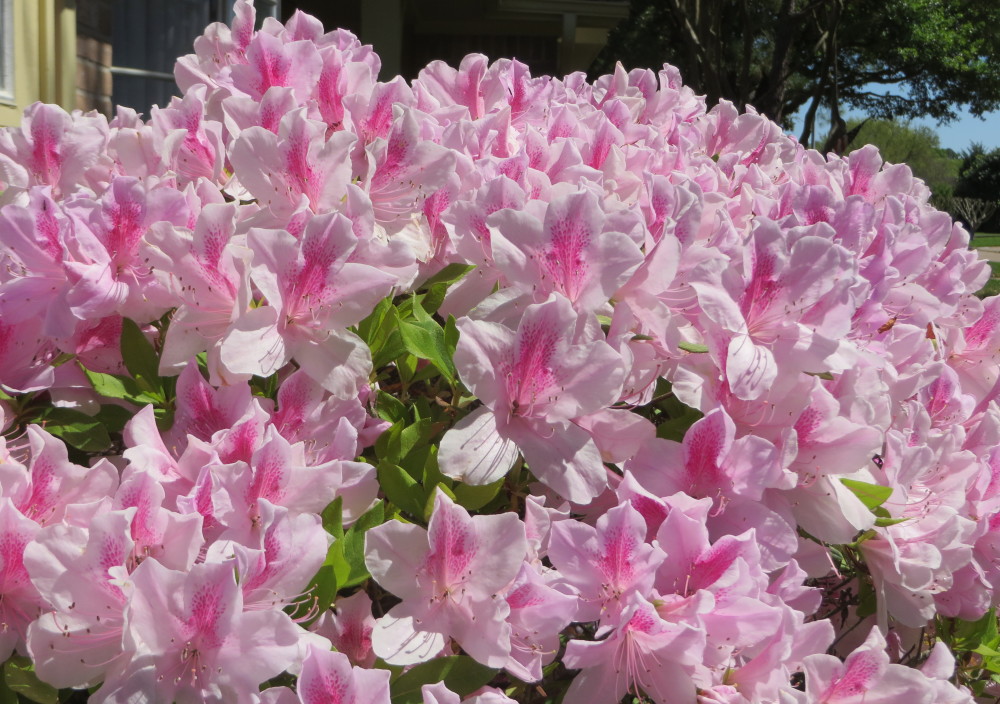 The weather is gorgeous here in Houston, Texas and our azaleas are in full bloom! I just have to show them off! If you are still experiencing snow, I hope this will give you some comfort that spring will soon come to you as well! Perhaps just looking at these beautiful blooms will inspire you to stamp a card with pretty flowers or make you feel like Easter is on its way. There was an older stamp set with a flower stamp that I used to use to look like my azaleas. But any flower stamp that gives you the same feeling as looking at this picture will do!
While you have some free time this weekend, be sure to shop Stampin' Up!'s catalogs and Online Store and make your list before the end of Sale-A-Bration.  Tuesday, March 31 will be your last day to get your free Sale-A-Bration goodies with each $50 purchase.  No limit on multiple increments of $50! Any current merchandise counts toward the $50, even My Digital Studio downloads, if you need a couple more dollars to reach $50 or $100. My Digital Studio is going away May 31 so purchase any downloads, or the software, that you want before them – might as well do it now and take advantage of Sale-A-Bration! You can still use My Digital Studio even when Stampin' Up! no longer carries it.
You might consider stocking up on card stock, adhesives, refills, or In Colors that will be retiring in a few weeks.  Beat the rush and avoid a sell-out.
Remember you have extra choices in Sale-A-Bration products beside the brochure! Click on the links below!
Place your Stampin' Up! order at my Online Store or email me and I'll be happy to put it in for you! Continue reading