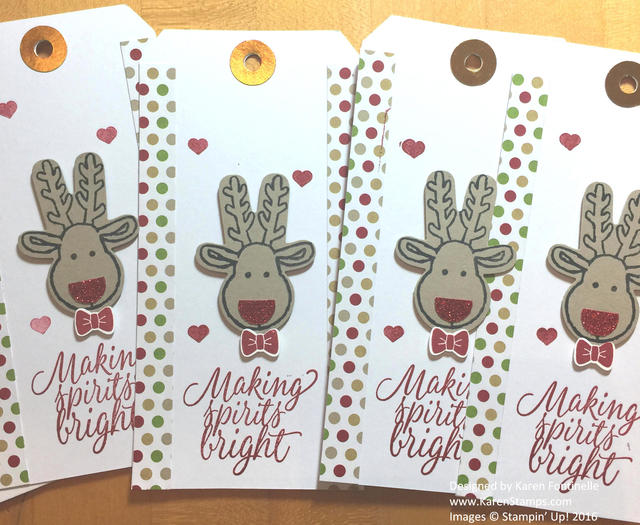 What a fun day I had yesterday! In the afternoon one of my customers, who has become a dear friend to me, and her little girl came over and we made these Reindeer Christmas Gift Tags for a children's group for their stockings. Since we were making 24 tags and for both boys and girls, we needed something relatively easy to make, something that appeals to either a boy or a girl, and something for different ages.
Right away I thought the Cookie Cutter Christmas Stamp Set was probably the way to go, with lots of choices of stamps and creative possibilities, not to mention the coordinating Cookie Cutter Builder Punch which would make assembling the tags easy by punching instead of cutting with a scissors. Before I knew exactly what design I would come up with, I looked in my retired "stash" and found  the Season of Style Paper Stack with 24 sheets of each of two patterns so I knew we would have plenty of the same paper! As it turned out, I found an idea online for tags that just had strips of paper on the sides of the tag, so we had no problem with the amount of paper we needed. My friend had already purchased some large white tags, 6″ x 3″, so at first it was a bit of a challenge to decorate a large tag.  But it can be done! If you need a large tag for a gift, just cut one the size you need from cardstock and play until you find the right decoration for it!
The reindeer is stamped with Memento Black ink on Crumb Cake cardstock. What reindeer would be complete without a glittery red nose, so we used a 1/2″ Circle Punch with Red Glimmer Paper and snipped off just a top portion of the circle to fit the stamped portion of the nose. The bow is also in the Cookie Cutter Christmas Stamp Set and the bow can also be punched with the Cookie Cutter Punch! Easy peasy!  My friend's daughter, Miss Elsie, did a lot of the work on these tags, adhering the strips of paper on the sides of the tags, cutting and gluing the noses on the reindeer, and stamping the little hearts in the background for just a little something extra. She's been stamping since she was little, even teaching how to stamp in her preschool class a few years ago!!
The greeting is from the Tin of Tags Photopolymer Stamp Set. This stamp set is on sale right now in the Stampin' Up! Year-End Closeout Sale. I would recommend you pick up this set now at a discount because it has great Christmas greetings, but if you look closely, you will notice that there are other greetings you can use any time! Really, there are just four stamps that I would say are only for Christmas, and if you used careful "markering" on certain words in those stamps, you might be able to use them for other occasions! And for fun, go ahead and get the Tin of Tags Project Kit, also on sale, either for yourself or to give as a gift.  If you are giving it to a non-stamper, you can make the tags yourself and then put them in the cute red tin for the gift. As I've said before, I LOVE that red tin!
One of the best things about Stampin' Up! are the people that you meet, and yesterday afternoon is a perfect example! Just by me being a Stampin' Up! Demonstrator and this customer finding me online, back in the day when the Demonstrator Website was a fairly new thing, I have come to know her family, her mother, and one of her best friends who usually stamps with us. What a perk from just being associated with Stampin' Up!
And in the morning, I attended a Holiday Cooking Class given by my neighbor!  If you are in the Houston area and are interested in learning either how to cook or some new ideas, check out Chef Ellen!  Follow her on her Facebook page www.facebook.com/chefellenhouston or her website at http://chefellen.weebly.com/.  She's doing another Holiday Cooking Class December 18th with different foods. Just in time to give you new ideas for your holiday dinners or parties!
What fun and what delicious food she showed us how to cook, some of which we cooked ourselves! It was a lot of balls in the air at one time, but she pulled it off and we had so many samples to try and some to take home that I'm not sure I can even remember what all we made! I wasn't taking photos with the intention to post on my blog, just to help remember the things we made, so they are "real" photos, nothing staged! The photo below is a brie wheel with a delicious sauce of cranberries and pears in a sugar syrup. Yum! The first photo above is spinach with a phyllo dough topping.
We made delicious mushroom soup, learned about artichokes and roasted one, crab cakes with a super-delicious sauce, a ricotta cheese appetizer, desserts, and more!
So if you are looking for some new cooking ideas or would like to book your own personalized class with Ellen, email her at chefellen@earthlink.net.  I've know her a long time, our daughters have been friends since they were little girls and still see each other whenever possible. Get out of your cooking rut and try Chef Ellen!
Cooking and Stamping!  It's all about creativity and new ideas!
Shop the Stampin' Up! Year-End Closeout and other current Stampin' Up! products!  You may want some boxes or cello bags to package your holiday food you may be giving as a gift!