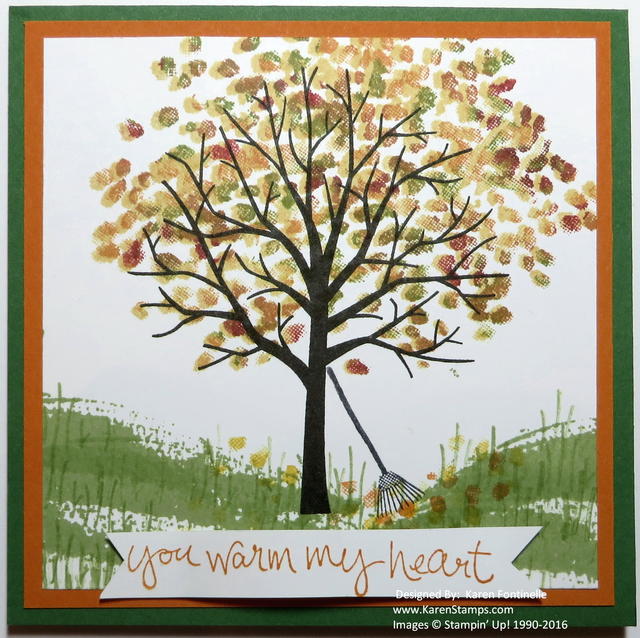 To celebrate the first day of fall I had to break out my Sheltering Tree Stamp Set that I hadn't used in awhile. Well, fall begins at 9:20 EDT I think I heard!  I guess at that moment all the trees in my neighborhood will change their leaves to fall colors and the temperature will drop about 30 degrees this afternoon!  Maybe in Houston we need it to drop 40 degrees to get that crisp autumn feel!
What do you enjoy the most about fall?  The cool, crisp air?  The colored leaves? Halloween coming?  I wish I could zap myself right now to somewhere cooler that has colored leaves! Those of you who have colored leaves now or coming can count yourselves lucky!
Sheltering Tree is an all purpose stamp set!  You can stamp the leaves on the tree to be any season you want.  Make them all one color or do like I did and use Stampin' Write Markers randomly to apply several colors. Then I stamped again with yellow in case I missed any spots.  The set comes with a small stamp of leaves so I used that to put a few leaves on the ground to be raked up with the cute little rake stamp!  The grass can be stamped with just the solid swoosh piece or the individual blades of grass.  I used both.  You also get several nice greetings in the stamp set.  The card base is Garden Green with a layer of Pumpkin Pie.
Enjoy your first day of fall!  Go jump in a pile of leaves! Or stamp something with fall colors!