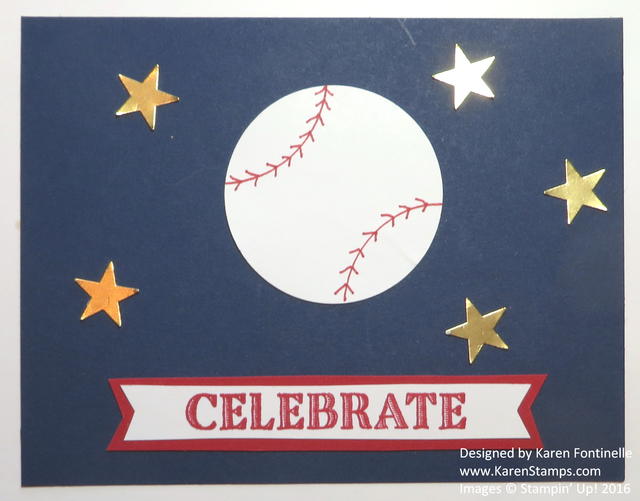 Did you watch Game 7 of the World Series last night with the Cleveland Indians playing the Chicago Cubs?  Wow!  What a game! Isn't it fun that with stamping you can make a card that has something to do with current events like my World Series 2016 Cubs Win Celebration Card.  I'm sure some relatives of mine, lots of them from Chicago, who I remember being Cubs fans, like my grandpa's brother, were celebrating in heaven last night! I couldn't help but root for the Cubs because of their history and being from St. Louis (which isn't too far from Chicago!), even though my son-in-law was mad they beat his Dodgers! He enjoyed the game itself anyway!
I very quickly made this card celebrating baseball, the World Series, and the Cubs victory. For the baseball I just punched a 2″ circle and drew on the baseball stitching lines with a Real Red marker. The word Celebrate is from the Ronald McDonald House Charity stamp set from Stampin' Up! called My Hero . (A worthy cause while you add to your stamping collection!!) The little stars I just punched with a small retired punch from Gold Foil Sheets.
Whichever team you were rooting for,  I hope you enjoyed the World Series this year!