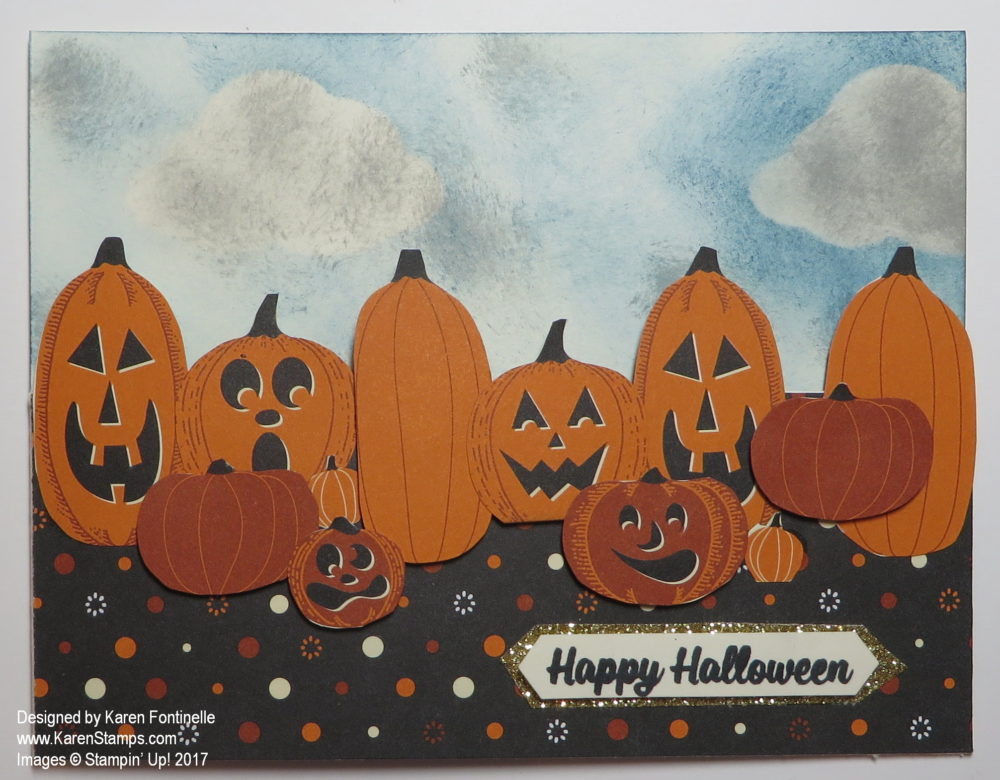 That's a lot of pumpkins on this Halloween card!  They are actually from the Spooky Night Designer Series Paper in the Stampin' Up! Holiday Catalog.  I got the idea for this card from one on Pinterest from several years ago, so I used the basic format and changed my design a little bit.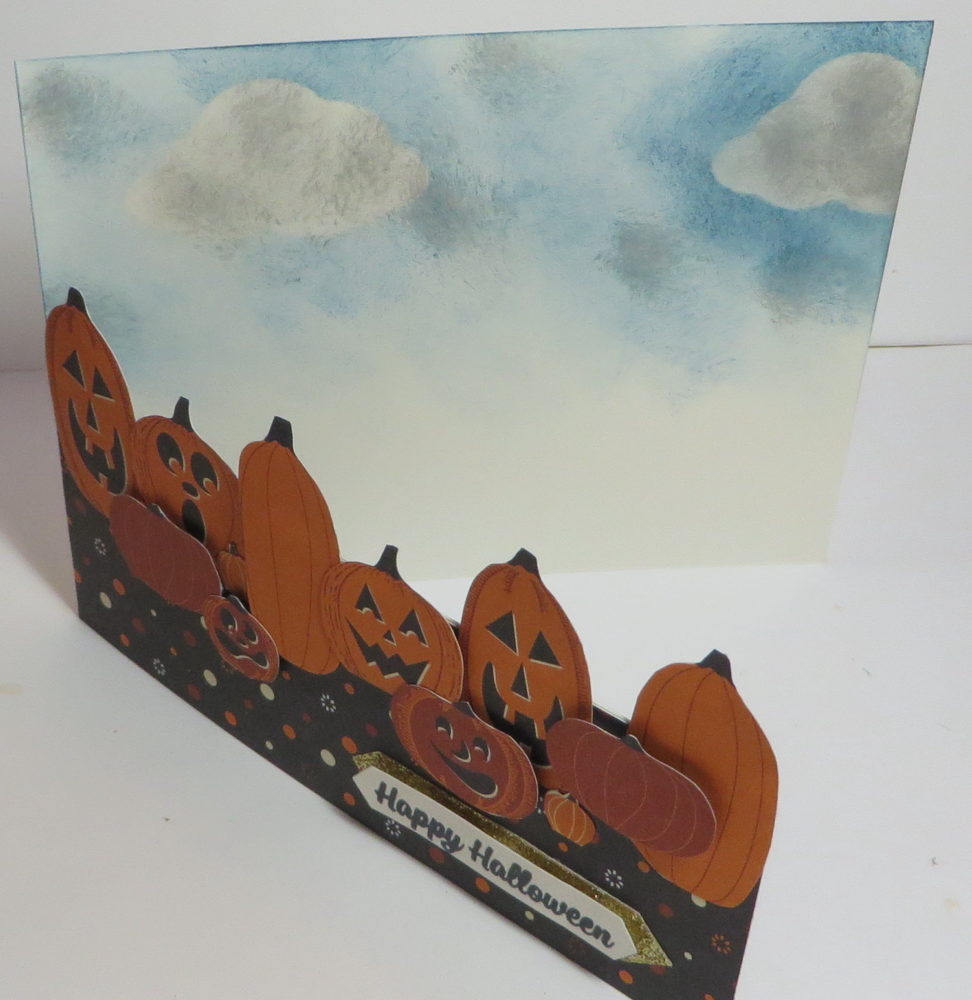 As you can see, the card base is a little different.  The fold is on the side for one thing.  I cut the Very Vanilla Cardstock in half lengthwise on the 8 1/2″ x 11″ paper instead of horizontally.  Cut the cardstock in half at 4 1/4″ x 11″, score at 5 1/2″ and fold. Now cut off the top half of the front of the card. You can make this measurement whatever size you want, but I just cut mine in half. Make sure you know which side is the front of your card and which way it opens, then cut on the fold line down to wherever you want and then across the front. My bottom piece (and same as the piece I cut out) is 5 1/2″ x 2 1/8″.  You can save the cut out piece for some other use.
When I had the basic card formed, I adhered a more neutral piece of the Spooky Night Paper to that front portion.  You could also layer with other colors.  I added a different pattern to the inside front of the car. See the photo below.
For the pumpkins, there is a sheet of paper in the Spooky Night Paper that is all pumpkins! Some of the Patterned Pumpkins Thinlits Dies fit some, but not all, of these printed pumpkins. You can use your Big Shot and dies to cut out the pumpkins that fit.  Since I was watching TV, I decided it was just as easy for me to hand cut the pumpkins with Paper Snips scissors. If you like cutting with a scissors, it's very relaxing to cut mindlessly while watching TV! If you hate cutting, then use the Big Shot! I cut enough pumpkins to fit totally across the front of the card and some for in front of that row along the edge.  I wanted LOTS of pumpkins!
Some of the pumpkins I glued with Mulitpurpose Liquid Glue and some I popped up on Stampin' Dimensionals. Just be careful with the glue that you know the exact pumpkin placement so that you don't get glue on the back part that shows.  You don't want the pumpkin glued to the inside of the card!  I didn't worry about the backside of that paper showing when the card was opened, and fortunately it was an okay pattern to show.
For the background, I sponged with ink and Stamping Sponges.  I always cut my sponges into pieces.  Some people like to make a portion of a sponge for each color and label them. I already had a cloud template cut out from the Tree Builder Punch.  I just save it and then sponge around the edges to make a cloud…..make a cloud by sponging blue around what will show up to be the white cloud! So it's really a "mask" to keep from getting ink in a space.  I sponged on some sky with Dapper Denim ink and some gray floating clouds with Smoky Slate ink.  That makes it look a little spooky!
The greeting is from the Spooky Cat Photopolymer Stamp Set, punched out with the Classic Label Punch, and layered on a piece of Gold Glimmer Paper, a scrap I had laying around!
This was really an easy card to make!  And I love the end result, if I do say so myself!  Try something like it and see what you come up with! You can copy exactly or you might have a different idea! Get yourself some pumpkins and make a Halloween card today!