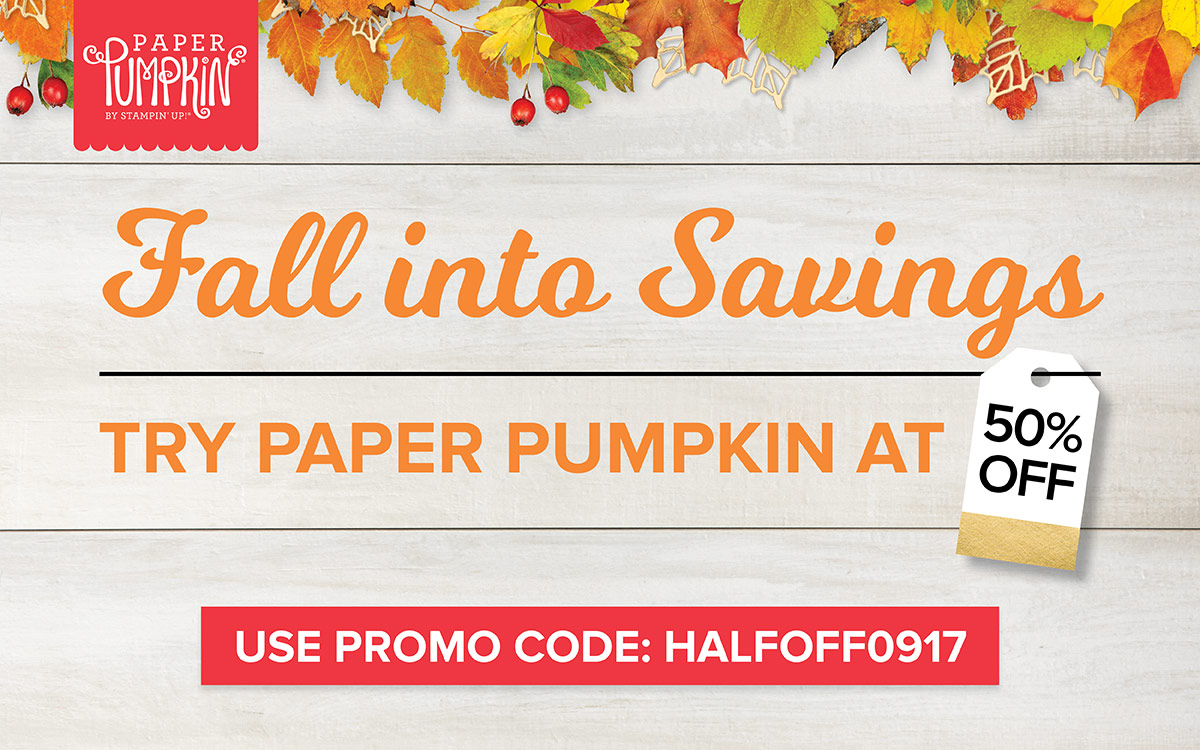 This is a very special invitation to join Paper Pumpkin at an amazing introductory rate during our Fall into Savings promotion. Subscribe from August 11–September 10 and Stampin' Up! will deliver September's (gorgeous!) Paper Pumpkin kit straight to your door, complete with everything you need to make adorable, shareable projects—all for 50% off!
Just sign up using promo code HALFOFF0917 HERE by September 10.
Only new month-to-month subscribers qualify for the 50% discount.
To participate in this promotion, subscribers must join by Monday, September 10, 2017 at 11:50 PM (MT).
The 50% discount only applies to the new subscriber's first kit. After that, the price for each month's kit will return to the regular price of $19.95 USD/$26.95 CAD.
New subscribers must visit paperpumpkin.com to join.
Enter the promo code HALFOFF0917 at paperpumpkin.com to subscribe.
No risk, no obligation.  Just cancel by the 10th of any month or simply "Skip" a month if you need to!
l
Don't delay!  Go ahead and sign up today! Then your subscription will be ready to go when Stampin' Up! starts shipping out the kits mid-September!  Yours will be ready to go! You'll experiment the fun of receiving your Paper Pumpkin Kit in the mail one day and have everything you need in one box to sit down and craft!  Just for you!
USE PROMO CODE:  HALFOFF0917