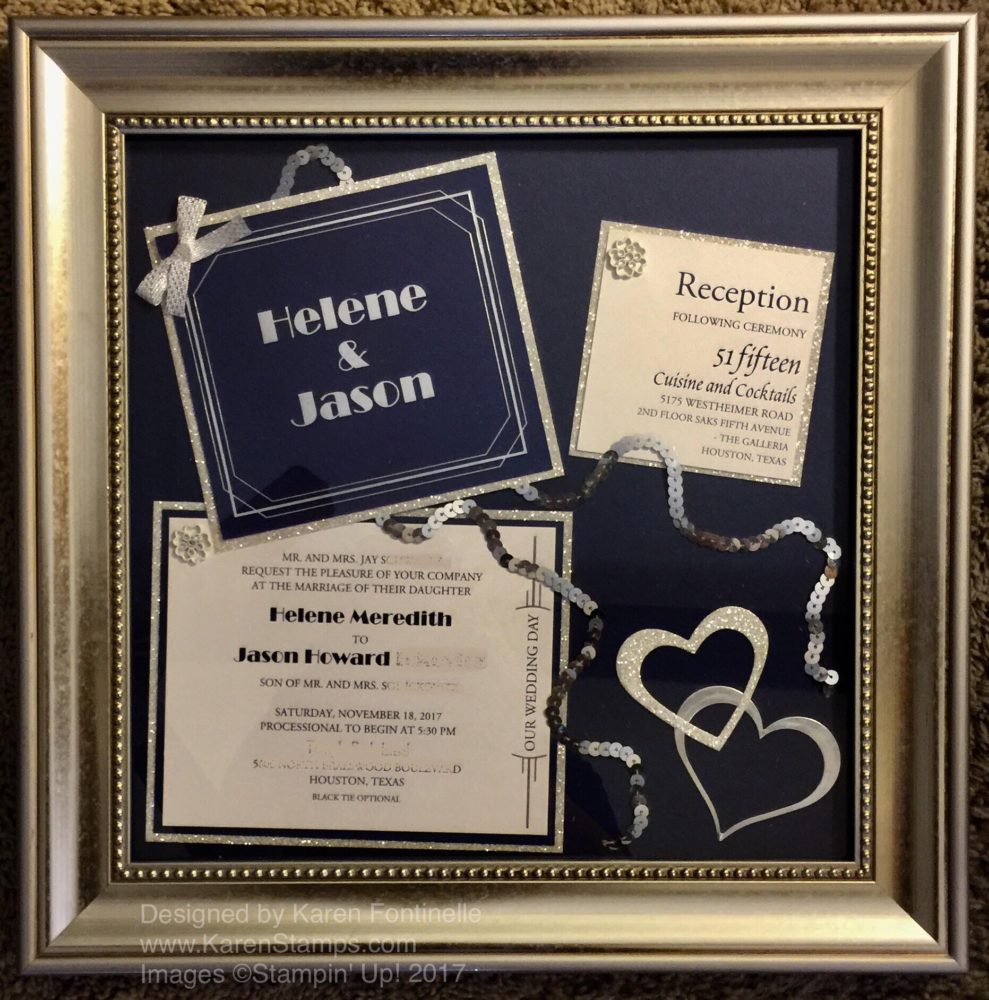 When you are invited to a wedding, you might be able to frame the wedding invitation for a gift to the bride and groom to make a beautiful keepsake! My daughter's childhood friend got married in November, and the bride's mother had asked if I could do something "artistic" with her wedding invitation since she likes my cards.
The invitation was three pages with a rivet in the top corner holding all of them together.  At first I was a little stumped with how to decoratively fit these three pages into a frame. Finally I started placing them "catty-wampus" on a 12″ x 12″ page. I started off thinking of a silver background, but once I tried the Night of Navy paper, I really liked that. It was just by accident that I used the Silver Glimmer Paper as kind of a placeholder for my Silver Foil Paper on order!  Once I saw that glimmer paper with the invitation, I loved it and had to use it.
Next I started pulling out any embellishments, ribbons, whatever that I thought I might use on the framed invitation.  You just have to play around with these things and see what you think looks best. It isn't always in your mind to begin with, at least it's not in mine! For example, I thought the Sequin Trim would look good somewhere, somehow but I wasn't getting it quite right until my daughter got home and suggested the layout of the trim that you see. I used some retired silver ribbon to cover up the hole from the rivet and also some retired embellishments to cover the holes on the other pages.  At the very end, some die cut hearts in Silver Glimmer Paper and Silver Foil seemed to fill up that corner just perfectly.
The last step, perhaps it should have been the first, was to find a frame!  Since the embellishments were actually pretty flat, I didn't need a real shadowbox. The man in the store found this frame for me,  12″ x 12″ and it turned out to be perfect!
I got lovely notes from the bride's mother and the bride, saying she had opened my present last and that she loved it and said it was the best present to open last! So I think it as a success!
Sometimes your ideas don't come right away. I began by looking for framed wedding invitation ideas, but I did better when I looked for wedding scrapbook pages! Then you have to play and play with the elements – sometimes it all comes together right away and sometimes you have to give it time to develop! Especially using someone's wedding invitation, I wanted it to be extra perfect and something she would like really like. This framed wedding invitation really was fun to make and I was pleased with how it turned out! But I could have easily given up and said I had no ideas on something that would look good. Just keep playing, maybe walk away for awhile and come back to it. Give yourself time to come up with what works. Then finally you will see that you have a design you are satisfied with!
You can use your stamping and papercrafting skills in so many different ways, like this framed wedding invitation. And a handmade gift is often one of the best kinds!