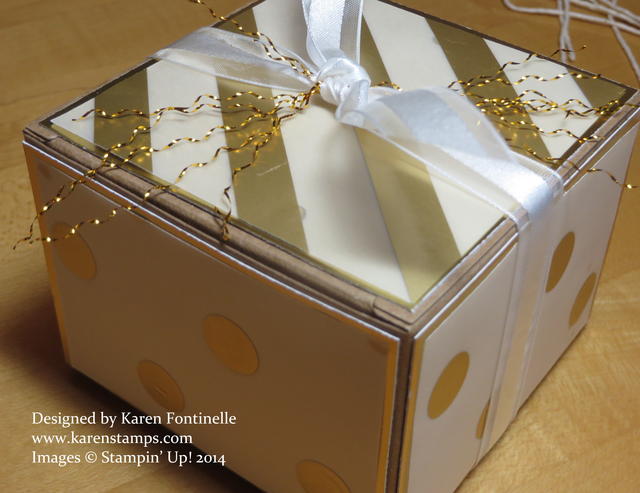 Do you need a fancy gift wrap idea?  Use the Stampin' Up! Kraft Gift Box and gold, gold, gold! Gold is IN these days so you might as well use it! I love these little Kraft Gift Boxes. They are 3 1/2″ wide on each side so perfect for a small gift or treat. I decorated this one first with a layer of Gold Foil on each side, cut just 1/8″ smaller on each side than the box. Then I layered a piece of Gold Fancy Foil Designer Vellum on each side (choose whichever pattern you like the best). I put a different pattern on the top.
Then to really jazz it up a bit, I put a little "frizzle" on the top! I didn't know where I came up with that term or description, but it turns out "frizzle" does mean curl or kink or ringlets so I guess I was correct! Do you know where I got it?  From the Gold Baker's Twine! The Gold Baker's Twine is really just White Baker's Twine with the metallic gold thread twisted around in it. Some people have even complained that when using the Gold Baker's Twine, it came untwisted and frayed at the ends. But you can embrace that idea and untwist the gold thread from the white twine! Cut the Baker's Twine into pieces several inches long each to make it easier.  Then gather your pile of gold threads and tie onto a bow or knot. Very easy! I could have also added a piece of Gold Sequin Trim for some extra bling!
If you are looking for more gift-wrap ideas and haven't signed up for my Mailing List yet, do it today and get your FREE GIFT, "A Dozen Creative Gift Wrap Ideas". You'll see the sign up box in the upper right corner of my blog!