I got the best surprise yesterday for my birthday when my brother called from Kansas and said he might be flying to Houston that evening on business.  We haven't seen each other  in a couple of years and he rarely gets to fly to Houston, so that he was coming to Houston, much less on my birthday, was a pretty big treat!  He did just barely make it in by evening, and then we went out to his and my favorite restaurant for him to have dinner and me to have a second dinner I guess!  He even brought along handmade birthday cards from my nieces and nephews!  I was so impressed with how "fancy" they made the cards!  Their mom said on the phone that they love the stamped cards I send them so now they make fancy cards also!  They used decorative scissors and had belly bands around them or around the envelopes, glued on borders, and lovely little notes! Here's a photo of the cards and handmade envelopes!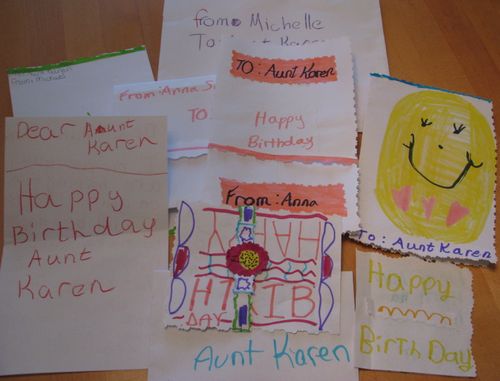 So never underestimate the power of a handmade card, whether you are giving or receiving!
If you enjoy a good ESP story….this was weird!  At dinner my husband, brother and I were talking about amusement parks and roller coasters.  I asked my brother if he liked roller coasters.  He said yes, he loved them (crazy fool!).  As soon as he said that, I remembered that one time as teenagers in St. Louis, I went with him, his best friend next door Ronnie, and Ronnie's girlfriend (and later wife) Patty to Six Flags.  They wanted to ride the new wooden roller coaster, the Screamin' Eagle I think, and I DID NOT but I stood in line with them for 45 minutes just to wait with them.  By the time we finally got to the head of the line, I decided I should go ahead and ride it and I did.  As soon as we got off, they wanted to ride it again and we stood in the long line again……and again.  Now last night I literally barely had those words out of my mouth when my brother's cell phone rang…..it was his friend Ronnie!!  How weird is that?!  Ronnie calls him now and then but not real often so for him to call like one minute after I was talking about him was really unbelievable!
So this morning I have just taken my brother back to the airport and gotten to board some rich person's private jet that he is going to fly back to Montana after maintenance here.  It's nice to see how the "other half" lives!  And I came home to a beautiful bouquet of birthday flowers on the porch from my upline/best friend!
I'll get back to Stampin' Up! Convention news and photos later!