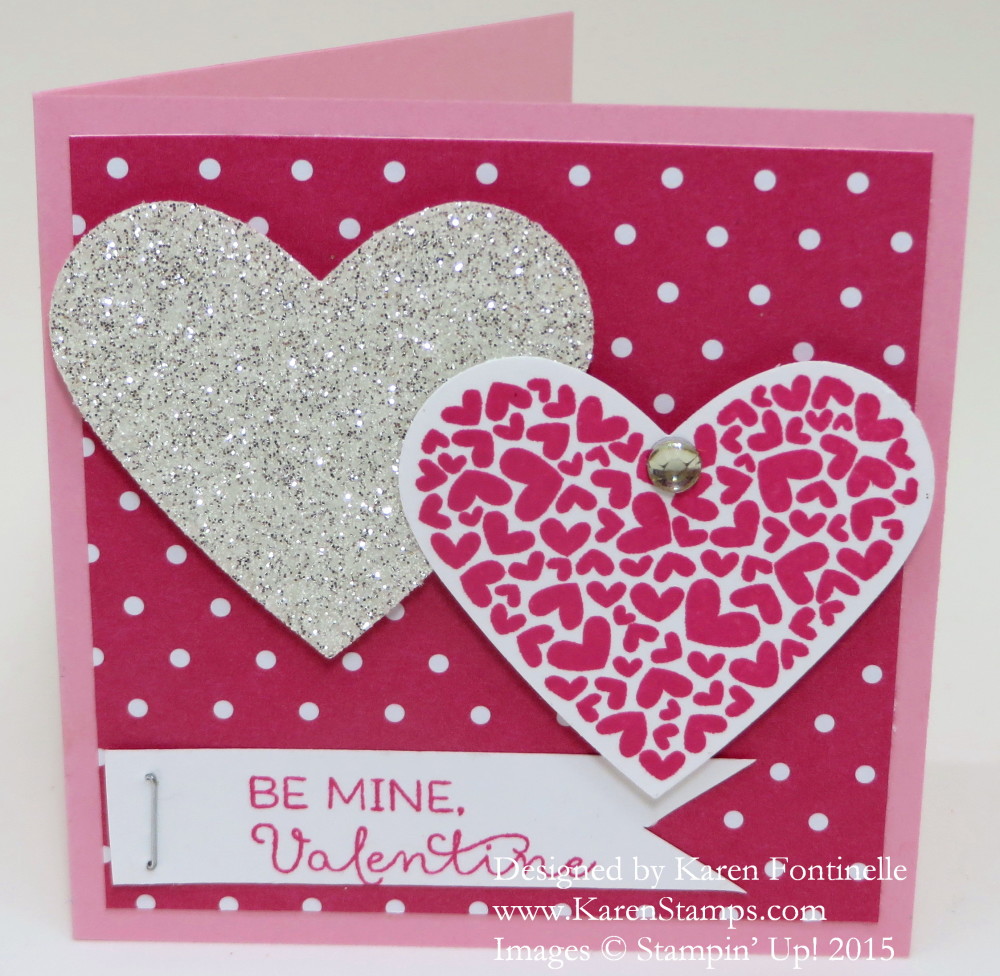 It's about time to start thinking about class valentines for school parties! Over the weekend I had two moms come over and get an early start on valentines for their three school classes. Since I knew we would be making LOTS of valentines, I needed to keep them simple and doable. That meant we probably wanted to punch rather than crank the Big Shot fifty times, make sure I had enough supplies for that many valentines, and basically keep them fairly simple to make and remember that it would be little children receiving these who weren't going to care how creative we were, who might only barely look at them before tossing aside.  YET we were making them and enjoying doing that so we didn't mind putting in a little work!
I knew Elsie liked pink and would want some bling and shine on her valentines for her all-girl 2nd grade class! I had some retired Pretty in Pink 3″ x 3″ notecards in my old stash so that saved cutting and scoring and were just the right size. Melon Mambo is a color that goes with Pretty in Pink so I made the layer from Melon Mambo paper in the Brights Backgrounds Designer Series Paper Stack.  The hearts are punched with the retired Heart Punch. One is made from the Silver Glimmer Paper and the other heart is stamped with a retired stamp set P.S. I Love You. The greeting is stamped on a little 1/2″ wide banner from a stamp in the January Paper Pumpkin Kit! The little staple from the Stampin' Up! Handheld Stapler adds a cute little touch. And for some bling, we added a little Rhinestone Jewel to the heart. The hearts are popped up on Stampin' Dimensionals.  The inside of the card is stamped with the "You're the Best" stamp in the Just Sayin' Stamp Set  that Elsie chose herself to use.
After the valentines, Elsie wanted to play (not with toys but with stamps!), and I had already spotted this past kit that I thought she might have fun with. In just a few minutes she had a whole bunch of flowers made! I have no doubt she can now use these flowers to embellish some other projects at home! She also made the popular rubber band bracelets for everyone in her class to give out with her valentines! Elsie is quite the stamper even at her young age.  She knew exactly what she was doing when she was helping us with the valentines, and I loved having a child's touch to all the valentines for herself, her brother Wyatt, and her friend Carl. Isn't she the cutest thing?!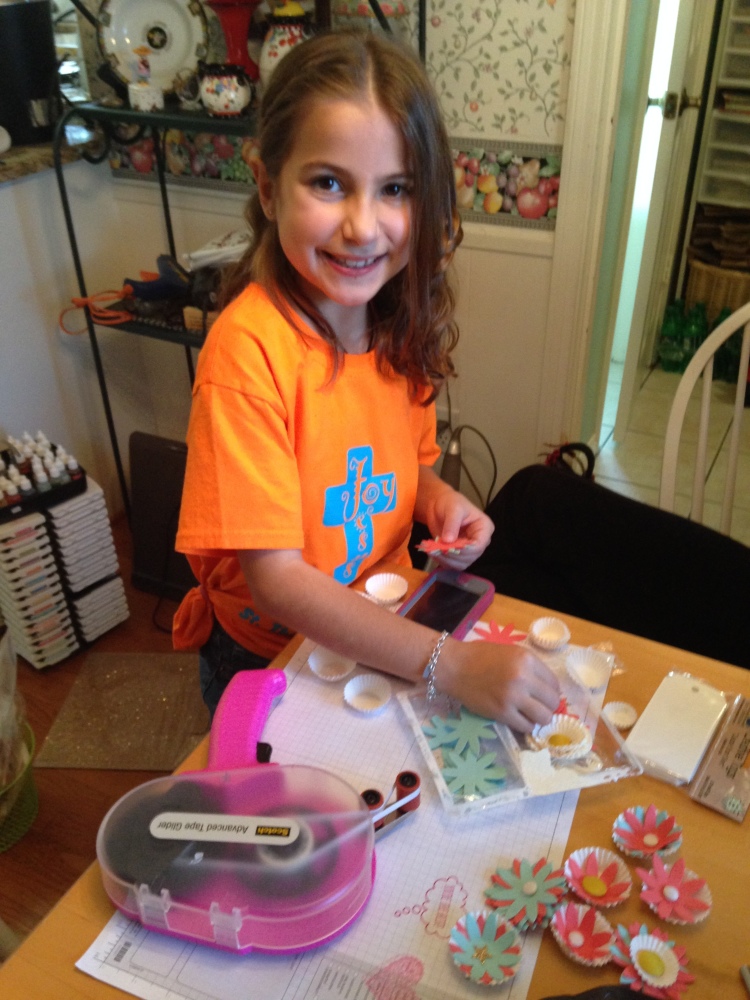 Don't we all have the best memories of elementary class valentine parties, of decorating the shoe box or the bag, cutting hearts out of construction paper, using doiles, maybe even some glitter and glue?! I think I remember having a kit to assemble my own valentines rather than the typical store-bought valentines. So maybe it has all come full circle!
Here are the new Stampin' Up! Weekly Deals for January 27 – February 2. If you like embossing with the Big Shot or the Texture Boutique, you will LOVE these deals!  Stock up on some embossing folders! The Texture Boutique is way less expensive than the Big Shot, but remember, you can only emboss with it. To do more, get the Big Shot, some paper, some embossing folders, whatever you like to total $150. Then get $25 in Hostess Dollars to spend on anything, plus 3 Sale-A-Bration items FREE!