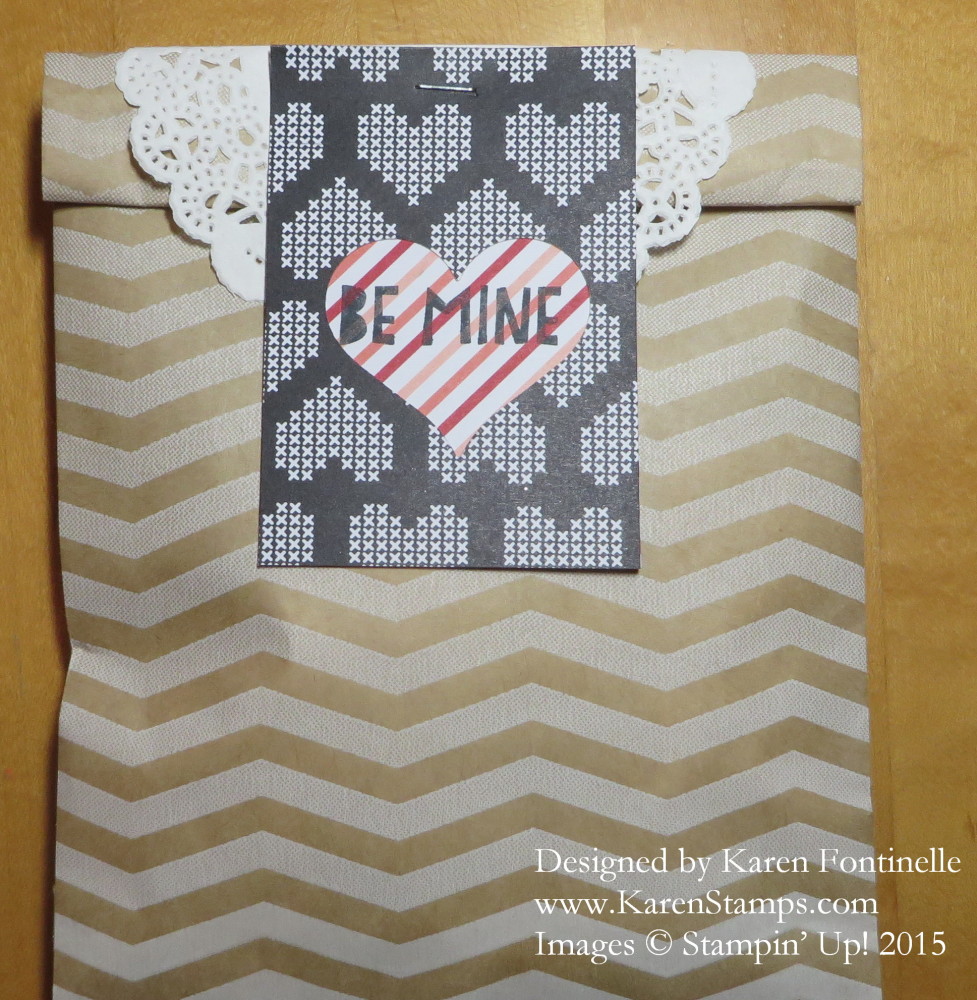 Moms, are you looking for some kind of treat idea for your children's Valentine class parties or maybe just Valentine treats for the teachers? This is an idea I got from watching the live stream from the Stampin' Up! Leadership Conference last week.  Sara Douglass (Shelli's daughter) presented this idea on stage:  Take a sheet from the Stacked with Love Designer Series Paper Stack, and cut it in half lengthwise. Fold in half and punch the top layer with the Sweetheart Punch (on sale this week on the Weekly Deals!). Then stamp a greeting on the inside layer to show through the punched out heart.  I used a stamp from the You Plus Me Stamp Set.  I really just eyeballed it but you could mark the inside or use the Stamp-A-Ma-Jig. 
For this project I used the Chevron Tag a Bag Gift Bag. Put a treat inside, fold down the top edge, fold a Tea Lace Paper Doily over the top and use the Stampin' Up! Handheld Stapler to attach the little card and hold the bag closed.
On stage at Leadership, this is the project Sara showed.  She used the Petite Cafe Gift Bags and just placed the little card at the top edge of the bag. Then she just rolled down the top edge, which also held the card in place! Very simple and easy!

You can really use this idea with any designer paper, make the card wider if you want, embellish the bag more. I had to "push myself away from the table" to keep it simple and not add any extra stuff that it really didn't need to a Valentine Treat Bag.
The Stacked with Love Paper Stack has turned out to be one of the most popular items in the Occasions Catalog! And it won't just be for Valentine's Day either. Hearts are good for any time and certainly the black and white sides of the paper will be easy to use always.
Get your Stacked with Love Paper Stack and the Sweetheart Punch today. Shop at my Stampin' Up! Online Store.