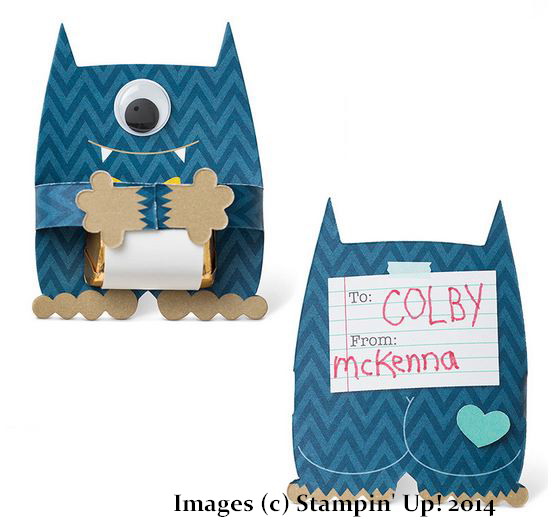 Valentine's Day is fast approaching and who doesn't like handmade Valentines?! I think Valentine's Day is one of the best holidays, especially for children, because everyone is included. Remember the boxes we used to decorate for Valentine's Day and how we often made our own valentines to hand out with red construction paper and doilies and maybe some glitter?
Here are some easy and cute Valentines you and/or your children can make!  Just order from me through my Stampin' Up! Online Store by January 27th, if not sooner! Monsters are so popular right now and these are adorable ones. It's a kit! Get 18 monsters, 18 googly eyes and 18 adhesive hearts. Make them as you see with a small piece of candy tucked under the monster's hands or a lollipop or even stick the monster on a card front.
Here is another idea I saw someone from Stampin' Up! make on stage with the Monster Hugs Valentines.  She made a box and attached it to the front of the monster, wrapped his arms around the sides and filled with candy.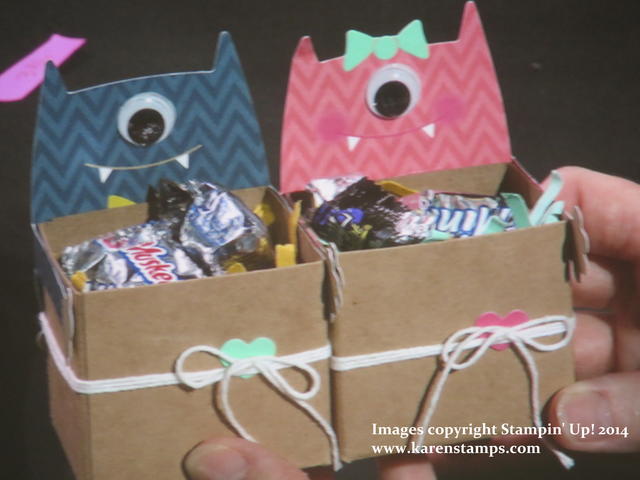 If you would like to purchase cute Monster Hugs Valentines, you can find them in my Stampin' Up! Online Store along with some other Valentine products! They do have to be ordered by January 27 so don't hesitate! As we get closer to Valentine's Day and the deadline for ordering, these Monster Hugs could go quickly.  You will also find other Valentine ideas and stamp sets in the new Occasions Catalog.
Go to my Online Store now and order your Monster Hugs Valentines! Or if you prefer, just contact me at Karen@KarenStamps.com and I can help you with your order.