Have you ever heard of a Corpse Flower?  It is the big news here in Houston right now while we wait to see if the Corpse Flower blooms at the Houston  Museum of Natural Science.  The museum has had a live web feed on the plant 24/7 and the museum has been open late and sometimes all night to give visitors a chance to see this unusual plant.  The plant even has a name….Lois!  Only 28 other bloomings have been observed in the US of this kind of plant….that's partly why it is so unusual.  The other attraction is that when the plant blooms it will have a powerful stench of rotting flesh. Apparently the smell is for the plant to attract certain kinds of flies and beetles.  You can see a picture and read more about it here.
So I thought I would make a prettier flower, only similar to what the Corpse Flower might look like in colors.  I chose Rich Razzleberry and Pear Pizzazz. Right now the real Corpse Flower looks like a stalk of some sort.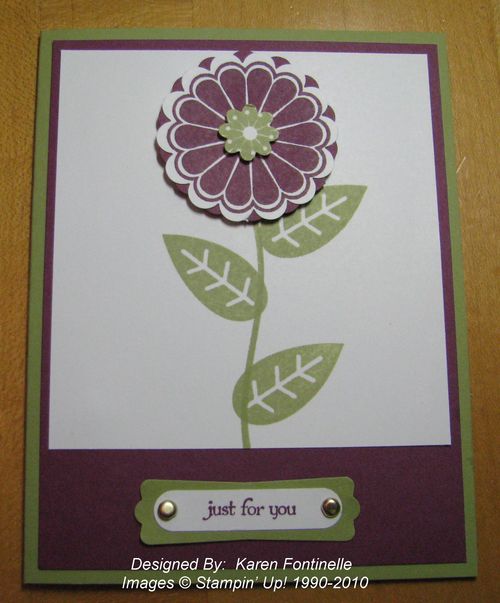 If you would like to keep an eye on the Corpse Flower at the Houston Museum of Natural Science, you can watch the live web feed HERE.
And if you want to stamp your own pretty flowers with the Petal Pizzazz stamp set #113417, you can go shop right now at my Online Stampin' Up! Store!  Don't forget the 1 3/4 Inch Scallop Circle Punch #119854 which will make it easy to punch out one of the flowers.