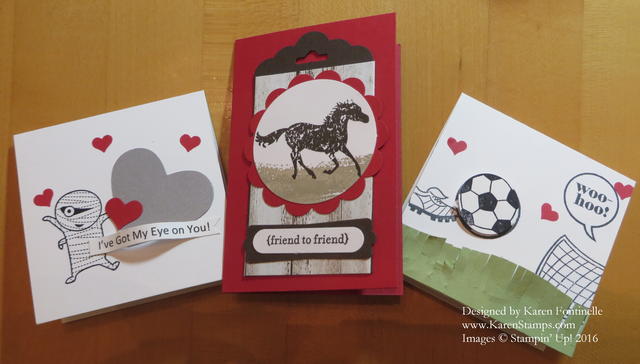 It was such a fun time on Friday night making class valentines with two of my customers/friends for their kids' classes! Yes, they are really ahead of the game, but since they are both so busy we decided to do it as early as possible. I love looking for ideas for cards so I created a secret board on Pinterest where I could pin anything I came across that I liked. I think only the mummy guy is from the Pinterest board, the other two I came up with after I heard what interests the kids had.
The mummy is from the Googly Ghouls Stamp Set (retired) and I copied this clever idea from Pinterest. I made mine be a small card, 3 1/4″ x 3 1/4″ square since I had leftover card stock from wedding invitations and thought this would be a great time to use it and save some cutting. Besides small is cuter sometimes! Since it was for a boy's class, instead of a big red heart I used some Brushed Silver card stock (also retired). I stamped three little red hearts and punched out one small heart. Not sure this guy has one in this photo, but it is extra-cute to adhere a googly eye to the mummy. We forgot to do that at the end, but it's plenty cute without anyway.
The middle valentine is for a girl who loves horses!  I used the retired stamp set Wanted. Sometimes it pays to keep around old stamp sets although something has to give space-wise sometime soon at my house! But this set is one I would probably keep. Somehow I came up with making a tag with the Scalloped Tag Topper Punch. The background paper on the tag is the woodgrain pattern from a sheet in the Farmers Market Designer Series Paper. We all decided on just a half card size (again, sometimes smaller is cuter!) and I think it's perfect!
And the third one is for a boy who loves soccer!  I found (again) a retired Stampin' Up! sports stamp set, never used! But any time now, when I make those scrapbook pages for my boys sports!!!  The grass is made with the Fringe Scissors. And the soccer ball is stamped on the card and also punched out and popped up for fun.
So the two moms and I made 75 valentines for 3 classes in a couple of hours. A real team effort! Hopefully the kids will like them, but it was also about us getting together to have some stamping fun! I always say one of the best things about Stampin' Up! is the people you meet!