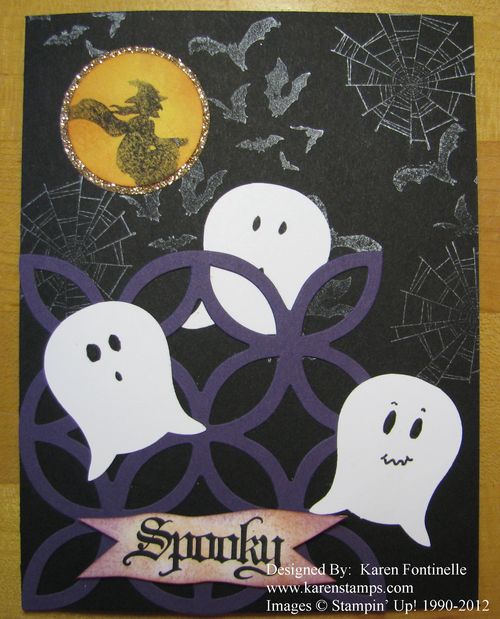 Today is Halloween! There are so many Halloween ideas out there that I didn't get to make that I almost hate to see that the day is here already! But I'm sure that the children who are eager to go trick-or-treating are glad it is October 31st finally!
I love that the Owl Punch can be used to make a ghost!  Do you recognize the owl? Cut off his feet and turn him upside down….he's a ghost! I just drew on little ghost faces with a marker.  The background is stamped with the new Illuminate Glimmer Watermark Stampin' Pad….the bats and spider webs. I wanted purple on my Halloween card so I used the Lattice Die and the Big Shot to add that element.
I almost don't remember how I made the moon, but maybe I just started with Whisper White card stock and sponged it with some colors, like More Mustard, Cajun Craze..maybe some Pumpkin Pie.  You could try any similar inks.  The I stamped a witch on the moon as if you would see her shadow on the moon as she flew by. The witch is from Toxic Treats in the Holiday Catalog but I just colored in the witch, not the whole stamp, with a black Stampin' Write Marker and laid the moon down onto the stamp of the witch. I like the kind of shadowy look I got instead of a crisp stamped black image.
And for some bling, I punched a larger circle of Champagne Glimmer Paper to layer behind the moon.
There are so many fun things to do with Halloween, from outdoor decorations to unique food ideas and recipes to cards and candy favors, party favors, costumes, Halloween decor and just not enough time to do them all!
I hope you have taken some time to make something fun for Halloween, whatever it is. I don't necessarily like the scary part of Halloween but I love the whimsical, the fun and cute ideas for Halloween.  And I hope I get lots of little trick-or-treaters tonight!
Happy Halloween!