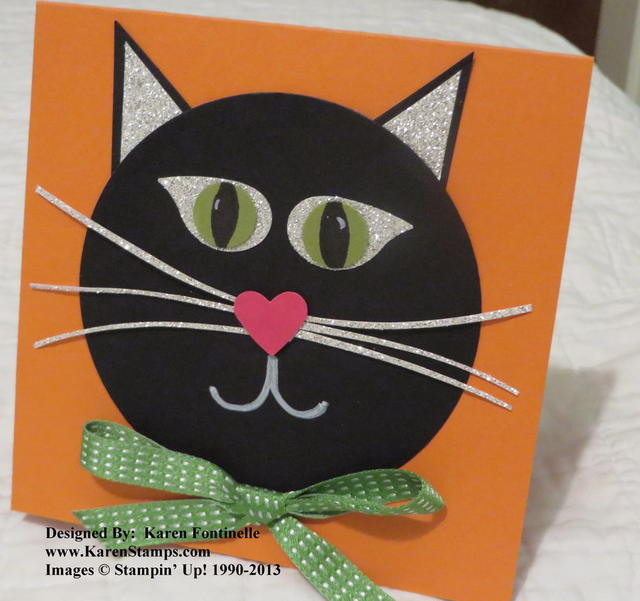 When I realized today was Friday the 13th, I came up with this black cat card idea. The cat face is cut with a Circle Framelit, the eyes with the wing on the Bird Punch. That black ear I punched with the  1″ Square Punch and then cut that square in half diagonally to make the triangle shape. Then I punched a piece of Silver Glimmer Paper in a square, cut the square in half on a diagonal, and then trimmed down the triangles so they would fit on the black.
For the eyeballs, I punched a 1/2″ Circle  of Old Olive and colored in the pupil with a black marker.
The whiskers are just cut by hand from Silver Glimmer Paper and stuck on the back of the Small Heart Punch for the nose.  The mouth is just drawn on with the new White Chalk Marker. I'm afraid people may have overlooked the Chalk Marker in the Holiday Catalog. I've found it very useful and think you should check it out on page 20, top right, of the Holiday Catalog. I also used it to draw the little glimmer in the cat eyes.
Do you have any Friday the 13th superstitions?  Why is Friday the 13th lucky?  My one grandfather was born on a Friday the 13th so he always considered it lucky!  My mother's aunt considered the number 13 unlucky, so if there were already twelve people seated at the dinner table, she wouldn't sit down. I don't know if Friday the 13th is always unlucky, but I think my black cat turned out kind of fun looking so hopefully it will be a lucky day!