Valentine's Day is really sneaking up on us this year, so I thought I would show how to make an easy Z-Fold Valentine Card with the Sealed with Love Photopolymer Stamp Set and the Sending Love Designer Series Paper Stack. So many great patterns in the paper stack, you almost won't know which one to choose! In fact, below you can see what the card would look like if I used the other side of the little white heart print paper that I used on the card above.
This is how easy it is to make a Z-fold card.  It's just the size of a regular card but with the fold on the side.   I cut my card stock vertically in half so it would be 11″ x 4 1/4″, then folded in half at 5 1/2″. To make the z-fold, all you do is take the front of the card and fold in half back on itself. In other words, you can score that front flap at the midpoint, at 2 3/4″ and fold it back. Then decorate your card however you like. The photo below shows how the folding should look.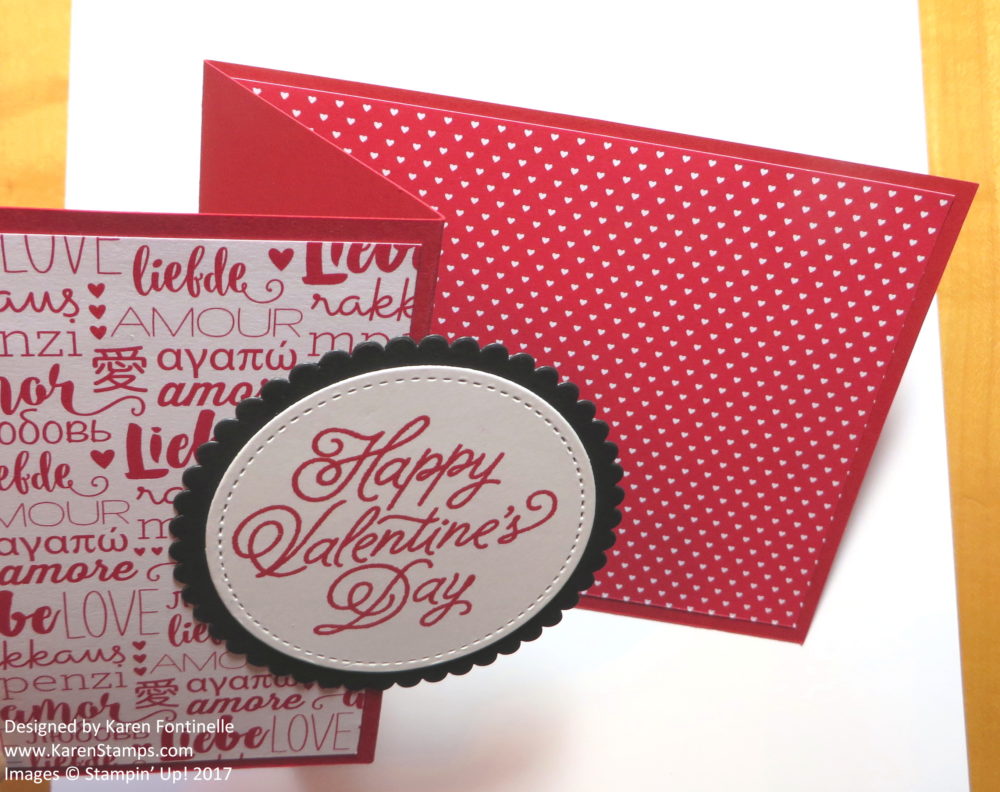 To decorate the card with the greeting, I stamped the greeting from the Sealed with Love Stamp Set and then die cut with the wonderful Stitched Shapes Framelits.  They are back in stock now, after being so popular when they were introduced that Stampin' Up! had to shut off the ordering. They will be in the next annual catalog, but you should go ahead and get yours now. They are that good! The scalloped Basic Black layer behind the greeting is die cut with the Layering Circles Framelits Dies. These two sets of dies pair very nicely.
You still have time to order supplies to make Valentine cards, treats and projects! Try the easy z-fold card for some of your Valentines!