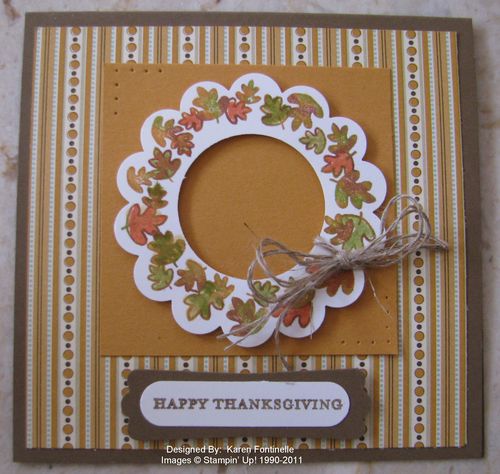 Warmest of Wishes is a hostess stamp set in the Holiday Mini Catalog, and the wreath can be used on a Thanksgiving card or many other kinds of cards. It's a versatile stamp set. Check it out in my Stampin' Up! store. If you hold a Stampin' Up! workshop, you can purchase this stamp set with your Hostess dollars if you achieve $150 in workshop sales (OR if your own personal order reaches that total).
Stampin' Up! has made it very enticing right now to hold a workshop with your friends!  Yesterday they announced the "It's Good To Be The Hostess" promotion!!  If your workshop (or personal order) reaches $350 in total sales, you will get an EXTRA $35 in Hostess dollars to spend! That's $35 extra in Stampin' Up! products you will receive!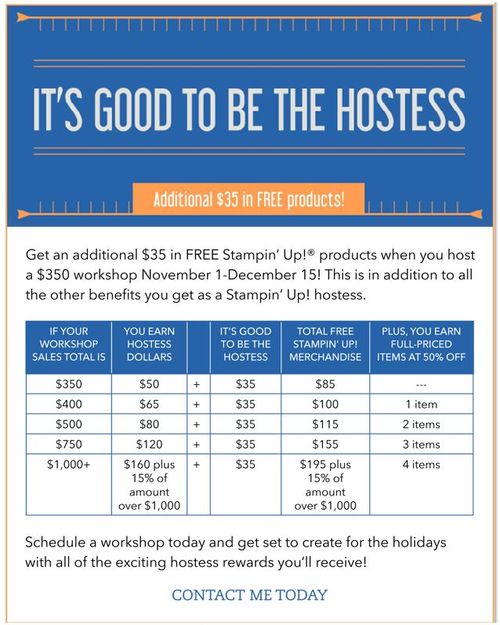 Contact me at Karen@Karenstamps.com to schedule your workshop between now and December 15 or to place your own order. Another way to "have a workshop" is to show the catalog to some friends and collect their orders.  No muss, no fuss….if you would like to do it that way.  Of course it is always fun to get together to stamp. Contact me if you'd like to participate in this great promotion but would like workshop alternatives.