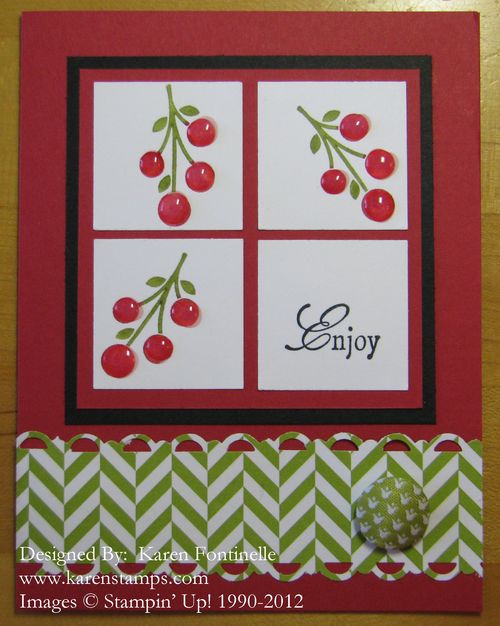 The stamp set, paper and fabric brad used on this card are all from the Summer Smooches Suite by Stampin' Up! It's a sneak peek of what will be in the new Stampin' Up! catalog in June….yes June! But you can purchase any of the items in the suite during the month of April! (The fabric brads will not be available in the catalog, so get them while you can!)
Mostly people are using the stem I stamped as flowers, but I thought they could look like cherries on a stem! It reminds me of Mary Englebreit, an artist from St. Louis…surely you know who Mary Englebreit is! I've always loved her illustrations and colors…and being from St. Louis doesn't hurt either since that is where I grew up!
To add some dimension, I added a bit of Crystal Effects #101055 to each cherry.  If you look at the photo again, you can probably notice the shininess (is that a word?) of the cherries. It takes a few minutes to dry and then it becomes a high-gloss image.  Crystal Effects is also useful as an adhesive….sometimes around the house!  No stamper should be without it, so put it on your next order…with the Summer Smooches!