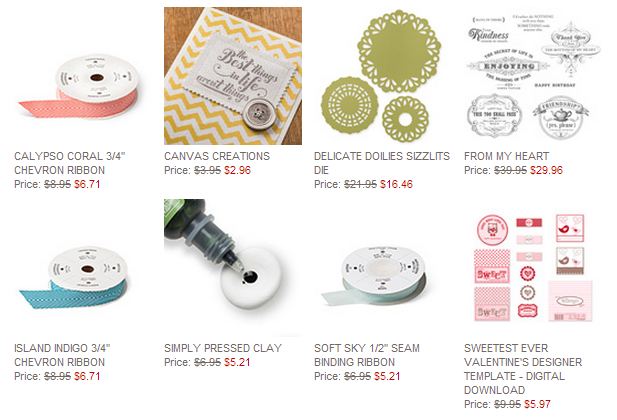 Today is Tuesday and that means new Weekly Deals from Stampin' Up! So many things going on at Stampin' Up! these days! Add some of these discounted products to your order, reach $50 or more and earn a FREE Sale-A-Bration product (for EVERY $50 you spend!)!
Paper Pumpkin
Don't forget about Paper Pumpkin! Sign up and start getting your fun papercrafting kit in the mail every month! Not every kit is cards either! Be surprised!!  If you sign up by Feb. 10th, you will receive a FREE pack of 2012-2014 In Color Markers! The 10th of every month is the magic date to sign up by or change your order so that you receive the next kit. The first kit every new subscriber receives is called the Welcome Kit.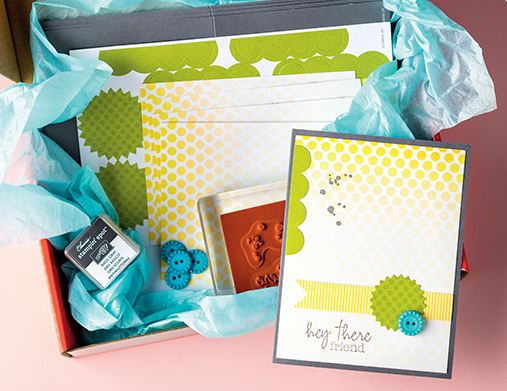 In the Welcome Kit you receive all the materials (except adhesive) to make four cards PLUS a free clear block on which to mount your stamps to use with future kits! I have to say, when I received my Welcome Kit I thought the cards were cuter in person than I thought they were going to be. You can follow the directions from Stampin' Up! for making your cards or you can strike out on your own! It's up to you! No rules!
At Leadership we were treated to a sneak peek of the upcoming kits and EVERYONE agreed that Stampin' Up! had stepped up the kits to make them even better. They are good for new crafters, non-crafters, young, old, friends, family, kids, college students, etc. Order two and make one kit with your friend every month! It's just fun to get a package in the mail once a month in a cute red box and have a surprise about what is inside!
The cost is $19.95 per month, which includes shipping! You can be flexible in the monthly orders – order an extra kit, pause your subscription, cancel your subscription if you must. Just make any changes by the 10th of the month.
Go to my Paper Pumpkin page NOW and get signed up so you won't forget! Then your Welcome Kit will be in the mail on its way to you around the 15th of the month.  You won't be charged until your kit ships! And you'll get the cutest email letting you know Paper Pumpkin is on its way!