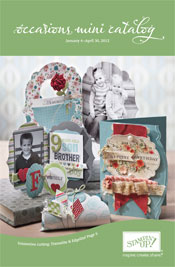 Don't forget!  With all the past excitement over Sale-A-Bration and now the anticipation of the retired list of stamps coming out April 15th, it is easy to overlook the Occasions Mini Catalog.  But this catalog only lasts until the end of April, so you just have about two weeks to go! I imagine some of the products will be carried over, but until we know for sure, be sure to order your "must haves" from this mini catalog before April 30th!
Did you know you can get the "recipe" for each project pictured in the Occasions Mini?  Just click HERE. This will give you a list of the supplies used in each project and that usually is enough for you to figure out how to make the project.  If not, just ask me!
To shop for any Occasions Mini products or any other great Stampin' Up! products, just click HERE to shop at my online store anytime. Then click on whatever category you want on the left.  Don't forget to check the Clearance Rack as well!