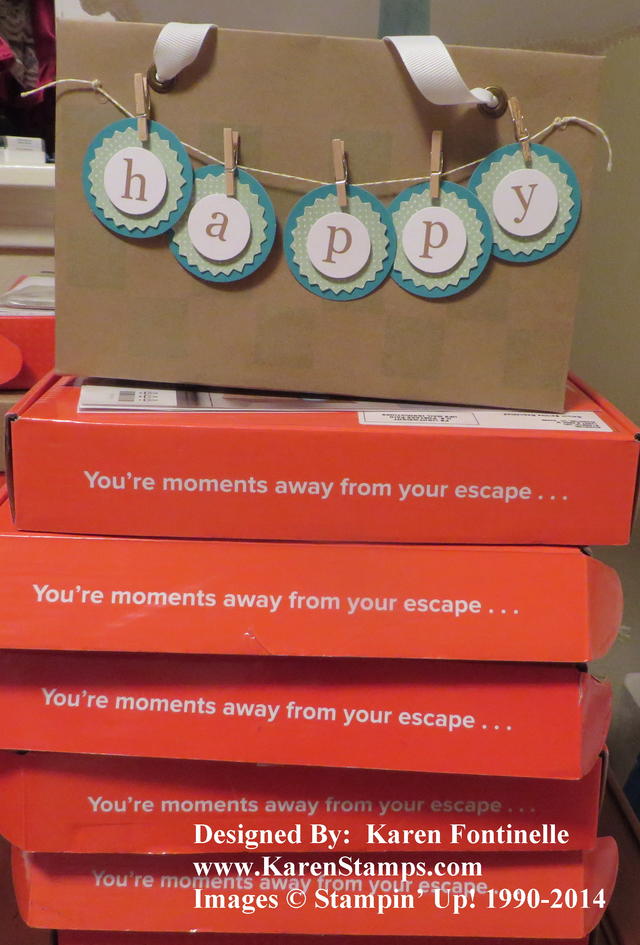 If you don't have a stack of Paper Pumpkin boxes, then you've been missing out on all the fun every month! Every month a new kit for a quick and easy papercrafting project! Usually you have leftover materials you can use on another project. Follow the Stampin' Up! directions or reinvent the project to suit yourself.
Paper Pumpkin is for you if:
You like to do a papercrafting project now and then but can't design one yourself.
You like to make things but you don't really have that many supplies.
You don't have much time for yourself to devote to crafting but if you could make a quick, cute project in about 30 minutes, you would enjoy it.
Sometimes you would like to do something fun with a friend or loved one and if you could just pull out two projects all ready to make, you would be happy.
You get excited when you get a package in the mail!
You've got tons of supplies, but if someone is going to put a project in a box all ready to go for you, it would be great!
If you join Paper Pumpkin, Stampin' Up!'s papercrafting kit that comes in the mail once a month, you will get your own pretty red box in the mail once a month with a project all ready to go, except for adhesive.  Join before March 31 and get a free set of In Color Markers (worth the price of the kit itself $14.95).  Try it risk free, no obligation, cancel when you are ready before the 10th of any month to stop that month's subscription.  Or just pause it if you want to take a break and start up again the next month or the next after that. A monthly subscription is only $19.95 which includes shipping!
Join Paper Pumpkin by clicking this link HERE.  Your markers will come with your Welcome Kit with a free clear block for stamping.  After the first month you will receive the same kits that everyone gets that month.  You can still sign up after March 31, but why not do it right away and get the FREE Markers!