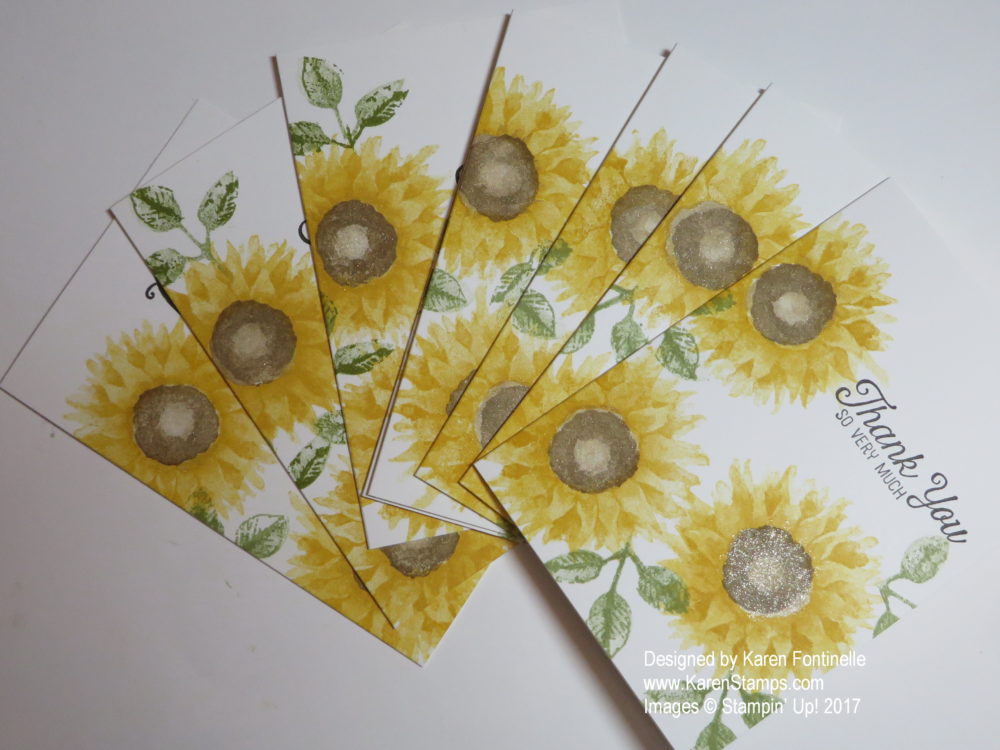 Once you get started making a Painted Harvest Note Card, I bet you can't make just one!  The Painted Harvest Stamp Set has such potential to make beautiful cards. And so many ink combinations to try!  Once you get stamping, you don't want to stop!
The flower stamps are actually two-step stamping and some people have tried real hard to line up the stamps exactly and stamp the center perfectly. Don't even try! With these stamps, it really doesn't matter. They are meant to have that imperfect watercolor look to the stamped image.
This is what Stampin' Up! said about these stamps recently that will perhaps help you with your stamping!
"With the seasons changing, we thought it would be the perfect time to talk about one of our most popular products: the Painted Harvest Stamp Set. If you've ever used this autumn-themed set, you know one of its most endearing attributes is that it gives you the look and feel of painting with watercolors. And, like any work of art, there are many factors that influence your final product. We wanted to take a moment to let you know that we designed this set to help give your stamps a one-of-a-kind feel. Because this stamp set is meant to mimic the nature of watercolor, it's particularly tricky to produce and can create varying results.
For the perfectionists among you (or those simply looking to master your craft), we thought we'd give you some tips and tricks for stampin' like a pro!
Stamp all layers of the image.
Make sure your ink pads are well inked.
Use nice, even pressure when stamping.
Use the Stampin' Pierce Mat.
Keep in mind that lighter colors won't show up as deeply as darker colors.
Play around with saturation levels (e.g., stamping full strength vs. stamping off) to get your desired look.
The stamp is not supposed to match the flowers on the Painted Autumn Designer Series Paper."
I've found that it is fun to use the Clear Wink of Stella Glitter Brush either just in the flower centers or maybe a little on the flowers themselves also. This also helps if you just want to smooth out the ink a little, particularly if you have a bit of white space around the flower center. But again, it's not supposed to be perfect, it's the watercolored look!  And the handmade look!  Not perfect!
Take advantage of the Designer Series Paper Sale in October and purchase the Painted Autumn Designer Series Paper as one of your three choices…..and then choose a paper for your free one! Now is the time to get any and all of the designer papers that you like!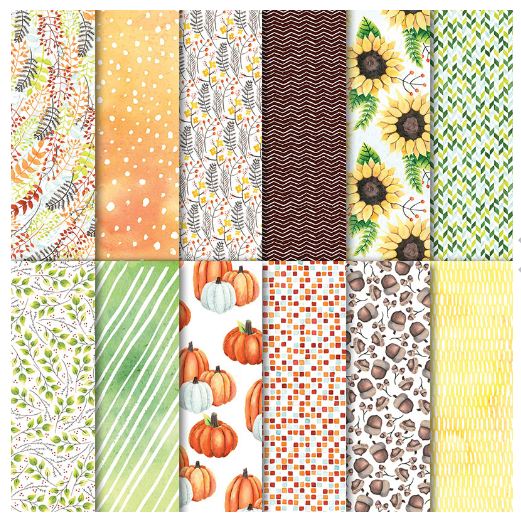 Also, the Whisper White and Very Vanilla Note Cards are on sale 15% off during the 10 days of the World Cardmaking Day Sale!  Check out those stamp sets on the sale plus a great buy on Fast Fuse!  Buy a Fast Fuse and get two refills FREE!
This is a fun time to shop at Stampin' Up!  Remember, the Designer Paper Sale Buy 3 Get 1 Free is the whole month of October, but the World Cardmaking Day Sale is only Oct. 1-10!  Don't delay!