Today is the day we have all been waiting for!  The new Stampin' Up! 2012-2013 Catalog will go live today at Noon Mountain Time (Stampin' Up! Time).  There will be no ordering from midnight MT until noon MT.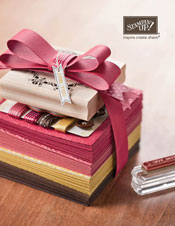 New Celebrando Creatividad 2012-13
So while you're waiting, and while I'm driving back to Houston after helping my son move out of his apartment for three days, please enjoy this video from Stampin' Up! about the new firm foam ink pads by Shannon West, one of our many favorite Stampin' Up! employees!