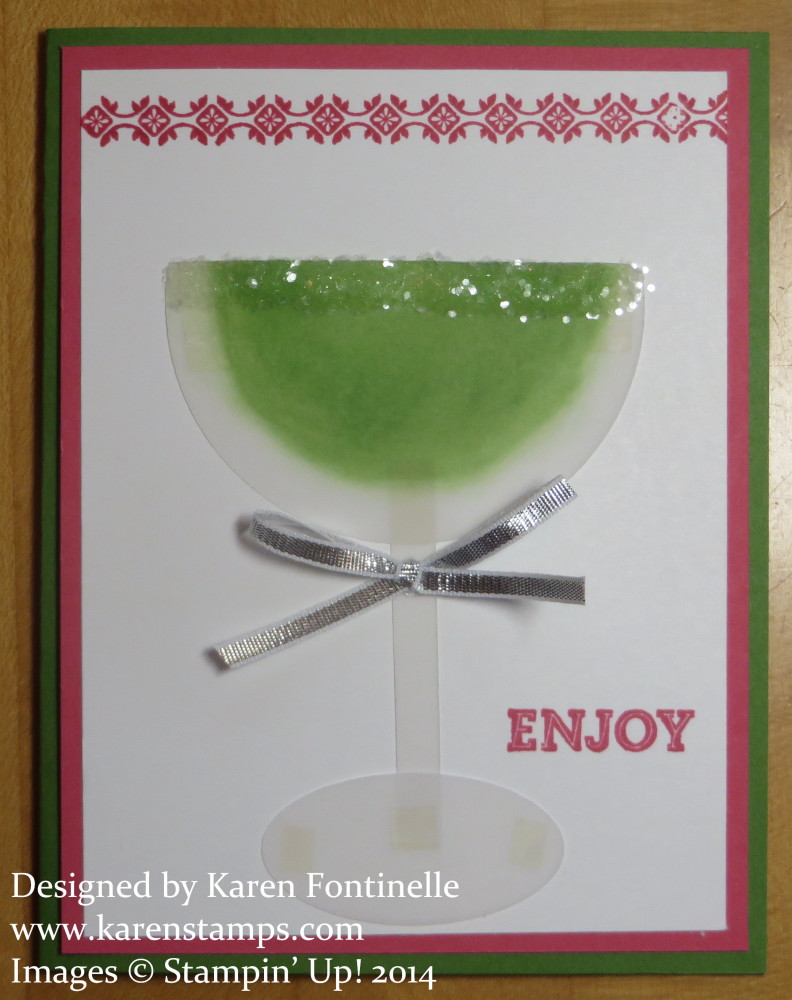 Cinco de Mayo 2017 was yesterday, May 5th, but I think it can be celebrated all weekend here in Houston! One way to celebrate would be to make a Margarita Card for Cinco de Mayo!  For those of us who love Mexican food, I guess you could say we celebrate it almost everyday. Actually, my brother and I celebrated a day early at my favorite Mexican restaurant (well, one of them!) and boy, did we enjoy our dinner! More about that later.
In honor of Cinco de Mayo (yesterday) I found this delicious margarita card I made a few years ago!  To make a Margarita, use our Stampin' Up! Vellum Cardstock. Vellum cardstock is a little sturdier than "just" vellum so it is better to work with to make the margarita glass.  Just cut a circle for the glass, a thin stem from the scrap and punch a small oval.  You can use punches or dies, whatever you have that works. Cut off a portion of the top of the circle to make the shape of glass you want. There's no good way to hide your adhesive under vellum so do the best you can. I used Sticky Strip on this card, but now we have Tear & Tape Adhesive.  You could also try sponging on small bits of the Multipurpose Liquid Glue which might not show very much,
To make the margarita glass, sponge on some green ink on the underside of the vellum. Make it as light or dark as you like. I left a border to look like the glass. For the "salt" on the margarita, spread a line of adhesive or use the Tear & Tape again and sprinkle on some glitter if you have some, particularly if you have some of the retired Chunky Glitter. Or you can have your margarita without salt!
Now if you are not into margaritas, you can use the same technique to make a regular shaped glass of lemonade or punch or anything you want. Just color the backside of the glass with whatever color drink you want to portray – or even layers of different colors for a fancy drink!
My brother surprised me the other day! We don't get to see each other often enough at all as he lives in Wichita, KS, but on rare occasions his company has him fly a small plane down here for one reason or another or to test one for a customer. Thank goodness for cellphones and perhaps a bit of obsessiveness because when I finished with an appointment Thursday afternoon I checked my cellphone before driving home. There was a text from my brother asking if I was home and then told me he was in Houston! I didn't know if that meant for five more minutes at the airport or if I could go see him for a little while or if he could come to my house for a visit.  Thankfully it meant the plane was not ready and he and the other pilot had to stay overnight. I picked him up at the hotel and brought him to my house where  we looked through some old scrapbooks of my mother's, our grandparents confirmation and marriage certificates, and bunches of old family photos from great-parents to our own children!
Finally we decided to go for dinner at Pappasito's and had delicious fajitas and shrimp and chips & salsa! It looked like quite the feast! No margaritas, though, only paper ones, since I still had lots of driving to do!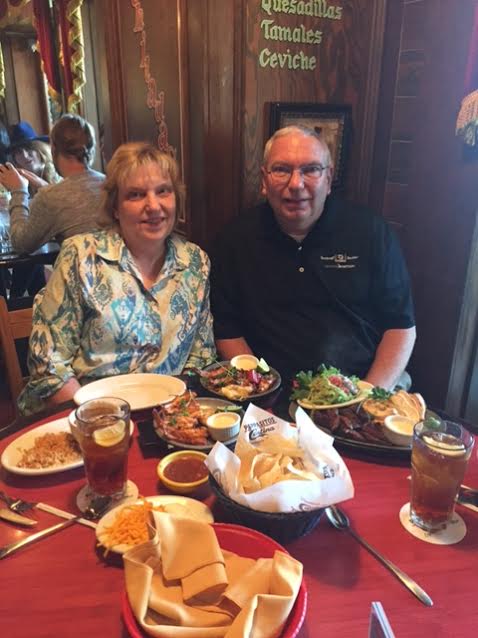 You can get papercrafting and stamping supplies for your projects, whether Cinco de Mayo or other occasions, at my Stampin' Up! Online Store HERE!