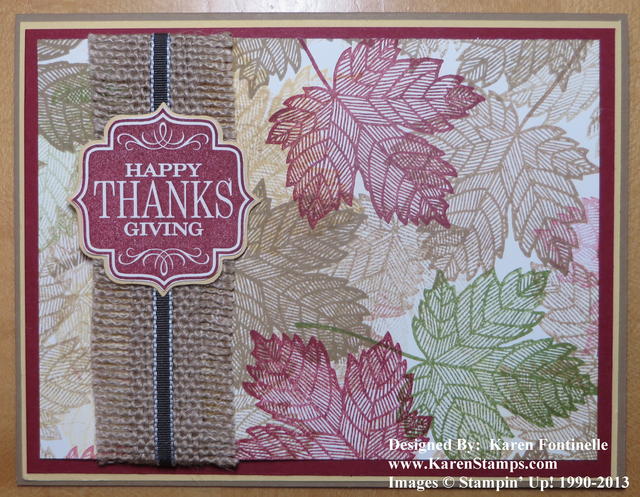 The Magnificent Maple stamp is great for you to use for fall cards and projects, and of course it is great to use for a Thanksgiving card. Here is another card you could make with the random stamping of the Magnificent Maple stamp all over your paper in different colors, sometimes known as a "one sheet wonder" because you stamp all over one sheet of card stock and then cut up the paper for individual projects.
I used the Stampin' Up! 1 1/4″ Burlap Ribbon in the Holiday Catalog on this card with a piece of 1/8″ Early Espresso Taffeta Ribbon down the center.  The Burlap Ribbon is actually frayed on each side, which doesn't show very well in the photograph. Just pull off the binding on the edge and then pull off several threads from each side. It's very easy to do. Burlap is quite trendy right now!
The Thanksgiving greeting is from the stamp set Tags 4 You. You get five stamps for four occasions:  Thanksgiving, Halloween, Christmas and Valentine's Day, plus a little to and from stamp if you are making labels. There is a matching punch, the Label Bracket Punch that fits these stamps perfectly!  In fact, you can save 15% by purchasing the Tags 4 You Bundle. The stamp set is available in wood- or clear-mount.
Here is a punch tip: The Label Bracket Punch only comes in one size, of course, but if you want to layer it, as I did on this card, you can use your Paper Snips to cut around the stamped image to make it smaller and then layer it on top of the punch in another color. Cutting something like that is much easier with the small Paper Snips rather than a regular scissors.
*************************************************
If you are reading this blog post and haven't ever signed up for my Mailing List, do it today! On Monday I will tell you about something special I will be doing ONLY for my mailing list subscribers! You won't find the same thing on my blog posts or Facebook page, it only goes to my Mailing List Subscribers. It's fun and I got lots of nice comments about it last year. This year I want YOU to be included!  SIGN UP  now!