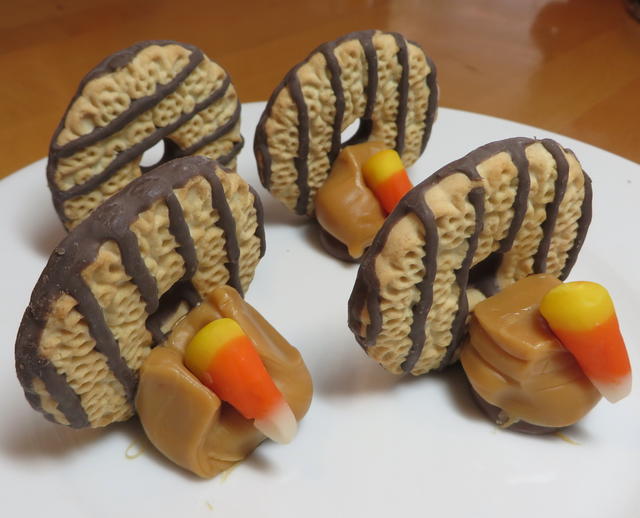 I think I have posted these little Thanksgiving turkeys before, but in case you need some fun little Thanksgiving favor or something, these are something I have made for years!  These would be great to put at each place at the Thanksgiving table or take along to your hostess where you are going!
You will need chocolate Kisses, candy corn, caramels, and fudge-striped cookies.
Put a few caramels on a plate and just barely heat in your microwave.  You want to just soften them, not melt them.  Do a few for a test and see how your microwave operates.  I did mine about 10 seconds or a tiny bit longer. You can probably do about 4 at a time and still make them all before the caramel hardens again.
Soften the caramel (take off the wrapper first!). Have the Kisses unwrapped also and candy corn and cookies handy.  As soon as the caramel squares come out of the microwave, press the caramel on top of a Kiss for the base. Then smoosh the fudge-striped cookie up against the back of the caramel until it sticks.  Take the candy corn and smoosh it into the caramel as you see in the photo. This is supposed to look like a turkey!
Someone taught me how to make these a million years ago!  There are other versions out there but these are super simple.  I used to make them for preschool Thanksgiving lunches and on to elementary school for the kids, as well as our own dinner.  It's always fun to have a Thanksgiving favor for everyone at the table or to take to a party!
Don't forget the Stampin' Up! Online Extravaganza is underway!  The stamp sale is over, but plenty of select products are available for 10% – 40% off!  And a to-be-announced FLASH SALE of something next Monday!