I know I have been MIA for a few days, but I have been a busy bee working on these wedding invitations.  Even though it was a lot of work, I enjoyed just taking the time instead of worrying about how many I had to do.  My printing came out fine in the end.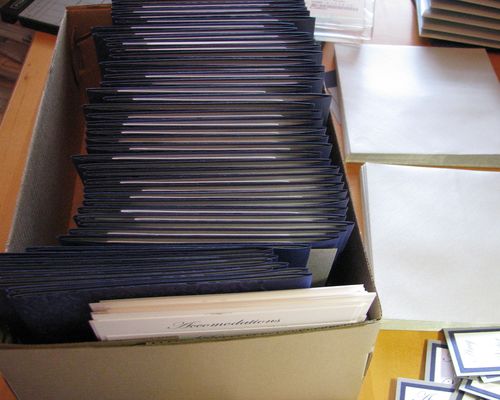 And here's a handy use for the Aqua Painter #103954!  I love this tool anyway for coloring in stamped images with either ink from the pad, ink from the refill bottle, pastels, etc.  It's almost like a watercolor brush with the water right in the barrel.  Stampin' Up! has a quality Aqua Painter…..I just leave the water in mine and it doesn't leak or anything.  But when faced with licking stacks of envelopes, I happened to think of my Aqua Painter!  Just swish the brush along the gummed seal of the envelope (not getting it too wet, of course!) and seal!  I couldn't help but think of the old Seinfeld episode where George's fiance dies from licking poisoned envelopes for her wedding invitations!
If you need an Aqua Painter for coloring or sealing envelopes, just check out my Online Store!