This is a gift I received the other day and I just loved the colors of the box and the ribbon!  Of course the Godiva candy inside is wonderful, too!  When I compared the colors of the box and ribbon, it was very close to our Stampin' Up! In Colors….Crushed Curry, Dusty Durango, and Bermuda Bay.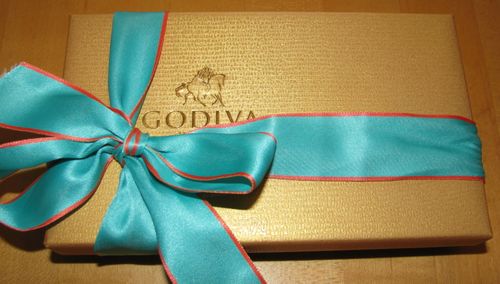 So, using the gold Godiva box and the ribbon as inspiration, here is a card I came up with using the Hostess stamp set "Kind & Caring Thoughts" and the In Colors mentioned above.
So you see, you can use everyday things as your source of inspiration in making your cards and projects!
DON'T FORGET!!
 Today is the last day to sign up to be a
Stampin' Up! Demonstrator for only $85!
 Read about it
HERE
.  This is a
Mini Kit
…..you get a stamp set, cardstock and In Color ink pads plus business forms and tools.
Want more??  
Get the standard
Starter Kit
for $199, which is a great value anyway, PLUS In Color ink pads and assorted card stock.
Start your own business and take it to soaring heights…..or use the extra cash to pay a bill or two!


Flexibility….how many hours do you want to work, how do you want to run your business, how much do you want to put into it…..or how little!  No obligation after you purchase the kit! Even if you decide to drop after awhile, you

keep the kit

!  Otherwise, the quarterly minimums are $300….and you don't have to make that minimum until the end of the second quarter when you sign up!

Demonstrators get a 20% discount on all product!  Often there are other perks, such as being able to preorder new merchandise ahead of your customers.

You will get support from Stampin' Up! and from me!  The Stampin' Up! website already has a lot of information got help you get your business going and keep adding great new training videos and information.  As your upline, I'm available to help you along the way and right now can offer you a free trial opportunity to be a member of the

Business Stampers Coaching Group

for one month with no obligation!  This is an outstanding opportunity for learning the best ways to make your business a profitable one!
Go to my website www.karenfontinelle.stampinup.net, click on "Start Your Own Business", follow the links, and use my password: karenstamps  
Contact me if you want more information or have any questions!