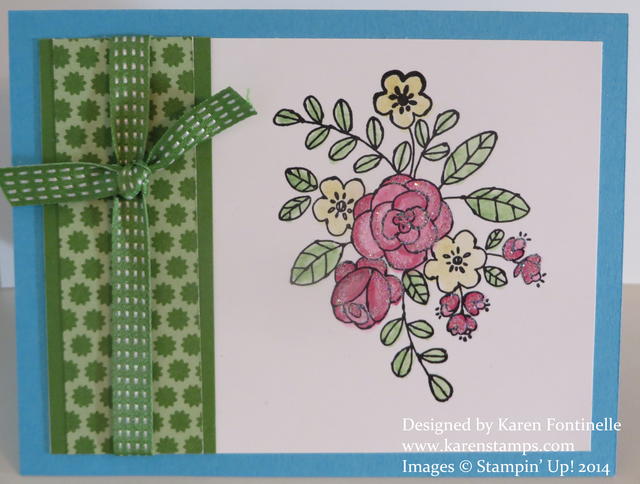 Do you wonder how to come up with with inspiration for ideas for cards, scrapbook pages, and any other projects? Often it just takes seeing a combination of colors or textures or a focal point. One day I came across this color combination in a catalog or magazine ad and it just struck me. I tore the page out and actually used the idea!  The colors reminded me of our Tempting Turquoise and Gumball Green, plus Whisper White.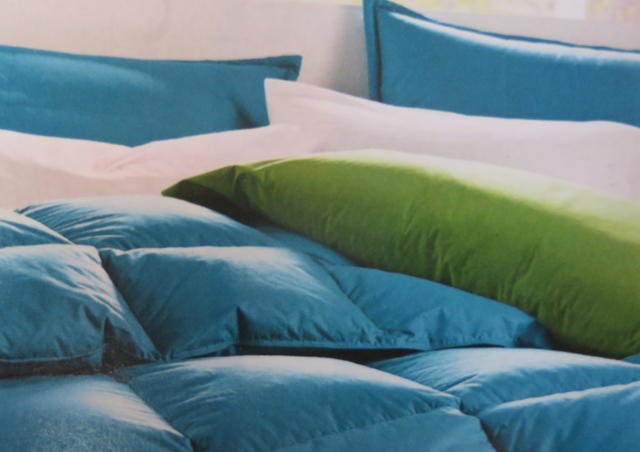 As you can see, I made the card at the top based on this color combination. I also added some Birthday Basics Designer Series Paper which had Gumball Green in it to the side panel and tied on a piece of Gumball Green 3/8″ Stitched Satin Ribbon. I stamped the pretty flower image from So Very Grateful and colored with Stampin' Write Markers and a Blender Pen. You can see my technique for that on my Stamping With Karen Facebook Page HERE. Go over and "LIKE" my page and be a "fan"! And I added a touch of Dazzling Diamonds Glitter with my 2-Way Glue Pen.
I decided not to add a greeting yet, depending on how I want to use the card in the future.  Doesn't hurt to just have a plain card for a note either!
I hope this will show you one way to find inspiration in creating your projects!  Often it just takes one little thing to get started–maybe a scrap of paper, maybe a color combination, maybe a piece of ribbon, who knows?! Just keep working and it will come to you easier and easier! Go page through a magazine now or look through your designer paper for color combinations and make something!