Maybe I missed the price of bacon slowly creeping up. Maybe I already had a stockpile of bacon and hadn't bought any recently. I don't know what happened, but I was shocked to discover that the price of bacon had skyrocketed to $7.00 a package!  It didn't seem any cheaper even at Walmart or any other grocery stores. So even I did not buy a package of bacon at that price…but then I hadn't run out yet.  Finally I found one brand on sale to tide me over.  I think an alarm would go off on my refrigerator if there wasn't bacon in there!
So speaking of bacon, have you seen the Stampin' Up! stamp set Button Buddies that you can stamp and then add a button?! It's really cute but I hadn't gotten to use it yet.
What on earth does bacon have to do with stamping?  Well, until there is a bacon stamp, I'll just have to make this connection with the little pig in Button Buddies!  Here's a little card with the pig and a button!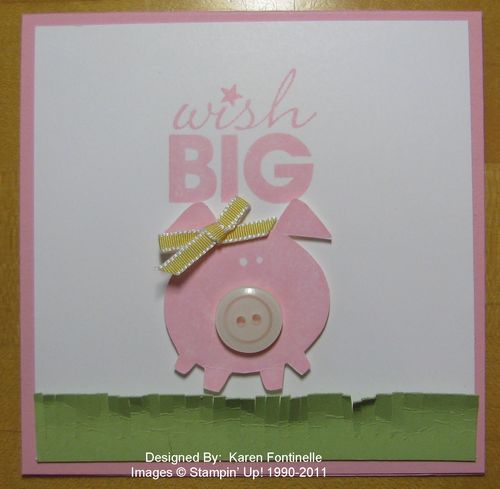 In doing some research on this issue, I found that the price of pork bellies did skyrocket, due to high corn prices forcing hog farmers to pare their herd because of the high feed costs.
So if you find a sale on bacon, you better stock up so you'll have bacon available for those BLTs!  There are other bacon flavored products out there, but you can't fool me. Nothing like the real thing!
And nothing like the best stamping inks, papers, stamps and accessories either from Stampin' Up!  Stock up now on your favorite stamping supplies!  You never know! Shop HERE today!