As I mentioned last time, after the fun kitchen remodeling, I was in need of some stamping therapy!  No better way to relax than getting out your stamping supplies and creating something!
First thing I did was pull out my new Simply Scored Scoring Tool #122334 from Stampin' Up!  This was introduced at the Stampin' Up! Convention and is available in the Holiday Mini Catalog.  Even though I had tried it at Convention, to actually use it now on my own was just a fabulous experience! It is so easy to use and makes doing this much scoring such an easy experience.  It comes with the stylus and also some "markers" to place at the top so you don't have to guess every time at what measurement you want to score.  You can even buy extras.  
But for this medallion I used a strip 12" x 1 1/2" and scored at every 1/4". This is our new Pick Your Poison Designer Series Paper #124001 in the Holiday Mini. (Since I made this, I've read a tip about scoring for example only every 1/2" and then turning the paper over and scoring the 1/4"….I'll have to try that and see if that makes for better folds.)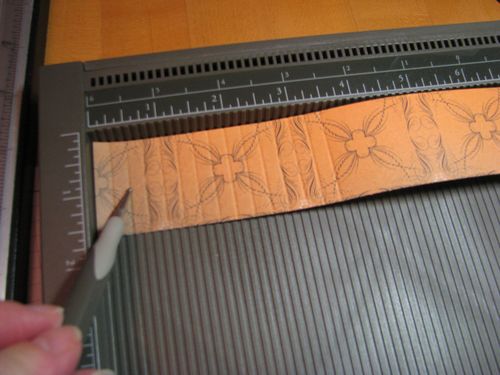 Do an accordion fold of the strip along each scored line.  I added Sticky Strip to each end for extra staying power! And punch a circle of any size for the backing of the medallion.  I used Tombow Multi-Purpose Adhesive.  I let that glue sit while I did the folding so it would get a little tacky.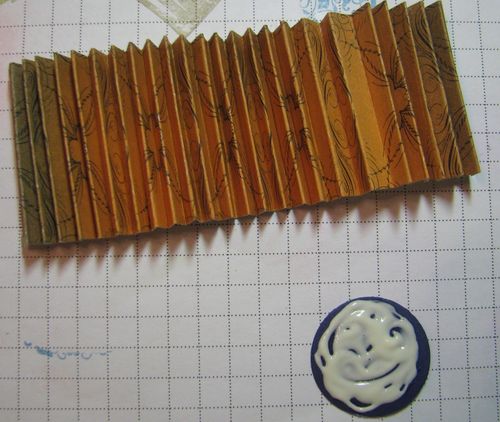 A little blurry but just adhere the ends of the strip together.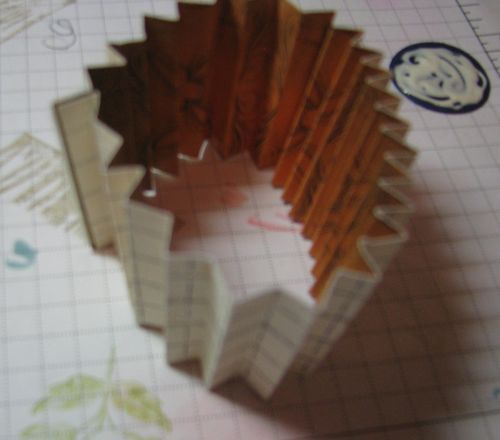 Press it down flat (easy to do) and adhere to your gluey circle on the back.  I even added a bit of glue to the center of the medallion since it would eventually be covered.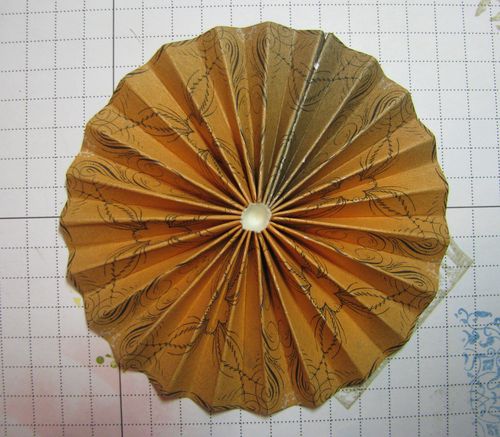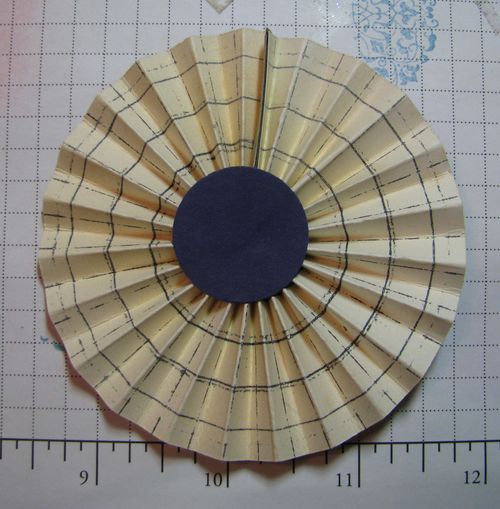 Here you can see my stamping mess where I tried out various punched circles of different colors.  The skull comes from the Pick Your Poison DSP….although I hated to cut into that new paper, it had to be done! The paper is great, as is, by the way for scrapbooking Halloween pages…just add a mat to your photo and adhere….the paper is already printed to suit!  No designing necessary!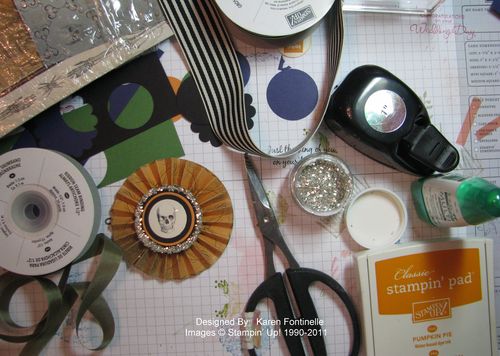 And the finished product!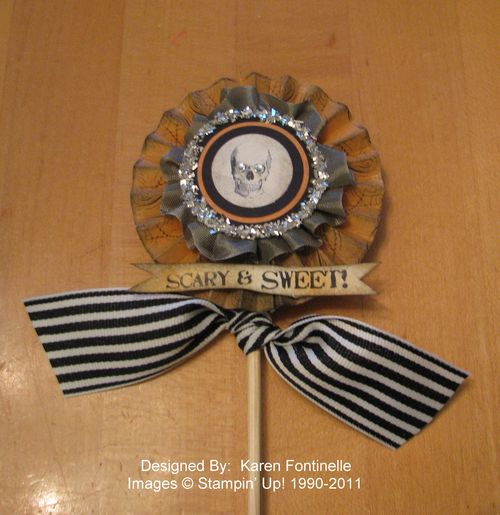 Silver Glass Stampin' Glitter #120995 around the edges.
Rhinestone Jewels #119246 bling for the skeleton eyes.
Sponged the medallion with a little Early Espresso Classic Ink.
Always Artichoke Seam Binding Ribbon #121000 ruffled around the center.
Sentiment from part of a stamp in Grateful Greetings #116511 cut by hand into a small banner and sponged on the edges with Early Espresso and a little Pumpkin Pie ink in the middle.
Adhered to a wooden skewer with lots of Stampin' Dimensionals #104430 and tied with some 1 1/4" Striped Grosgrain Ribbon in Basic Black #115615.
You can shop anytime so you'll be ready when you need stamping therapy!
Go to my Online Store HERE.