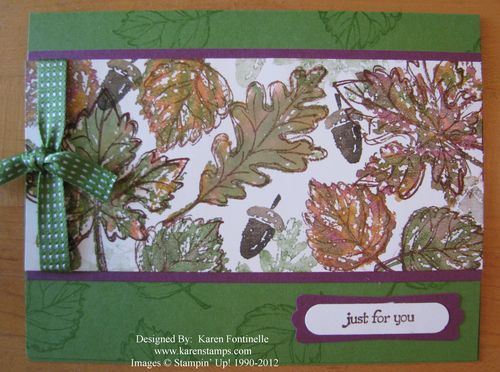 It's fall, for two days now!  Not that we can tell here in Houston, TX and we won't have colored leaves until December. But just to KNOW that it is fall makes me feel cooler and looking forward to all the things that are autumn.
This card was made with one of the leaf sets I have….Gently Falling. It's a two-step stamping set which means you can stamp the solid image of the leaf and then stamp over it with the outline image to define it….or just leave the solid image! Or you might want to just stamp the outline image and color in…or use it as a background as I did on the Gumball Green card base.
To give the look of fall leaves, I used several Stampin' Write Markers to ink the stamps. I would start with the lightest color of marker I was using on that stamp and ink up parts of the stamp.  Then I would progress with darker and darker colors of green or brown, for example.  This gives a multi-colored effect.  Either breathe heavily on the stamp to remoisten the ink or spritz it with a little water from a distance. That helps to blend the colors on your stamp.
Just because some packages of card stock were still not put away, I thought they looked good together and decided to use them….Gumball Green, Rich Razzleberry, and Very Vanilla….and some Soft Suede ink plus a little More Mustard and Tangerine Tango markers.
The little greeting is from Teeny Tiny Wishes (such a useful set!!), punched out with the Word Window Punch and layered on the Modern Label Punch. I almost didn't put a greeting so I could add an appropriate one later when I needed a card, but "Just for You" will do for a lot of occasions! I recommend purchasing the wood-mount version of Teeny Tiny Wishes since the stamps are so tiny.
It's fall so lets start enjoying the colors and the mood of autumn! The Stampin' Up! Holiday Catalog also has many stamp and paper choices as well as inspiration to get you in a fall-ish mood! If you need a Holiday Catalog, just email me at Karen@KarenStamps.com