This is my first try at making a Christmas card with the Carols of Christmas Bundle. While I could have ordered it earlier in July, somehow with planning our vacation, going on vacation and getting back from vacation, I didn't order it until the end of the month and just received it night before last. I had other things to do all day, and finally just before time to make dinner, I stopped and wanted to make a card with this new set, Carols of Christmas!
I pulled out my new Christmas paper in the Stampin' Up! Annual Catalog. It's called Be Merry Designer Series Paper.  If you are anxious to get started on Christmas cards and projects this month before the Holiday Catalog comes out, go ahead and order this Be Merry paper.  For this card, since Cherry Cobbler is one of the coordinating colors with the Be Merry paper, I chose Cherry Cobbler Cardstock for the card base. The patterned paper I chose was also Cherry Cobbler and to help it stand out a bit, I put a layer of Whisper White over the card base and the designer paper on top of that. I stamped the "Deck the Halls" greeting on a piece of Whisper White and decided to add the cute little ornaments to decorate.  These ornaments are very small, but adorable, so I was happy to use the Card Front Builder Framelits Dies to cut out the little bitty ornaments.
The ornaments are just placed above the greeting and I adhered a piece of Gold Metallic Thread to each one with either a Mini Stampin' Dimensional (boy are they nice!) for the ones I wanted popped up or a Mini Glue Dot for the ones flat on the card. Then I draped the thread behind the top of the card held down with strips of Snail Adhesive.  I wanted something at the top so I decided on a piece of Cherry Cobbler 1/4″ Double-Stitched Ribbon.  After that, all the pieces were just glued down layer by layer with Fast Fuse Adhesive to hold real well.
I admit I wasn't all that thrilled with this stamp set and bundle at first, or at least wanted to wait and see what was going to be in the Holiday Catalog.  As usual, as I saw some samples that other Demonstrators were making during our preorder opportunity, I knew I had to have it and placed it on my order!
You can make something simple, like my card today, or you can make some really fantastic cards and projects. I always say there is nothing too hard for even a beginner in stamping, as long as you have the materials and maybe someone to show you what to do! That's just one of the many things I love about stamping! Nothing takes great SKILL, a person just has to know the techniques.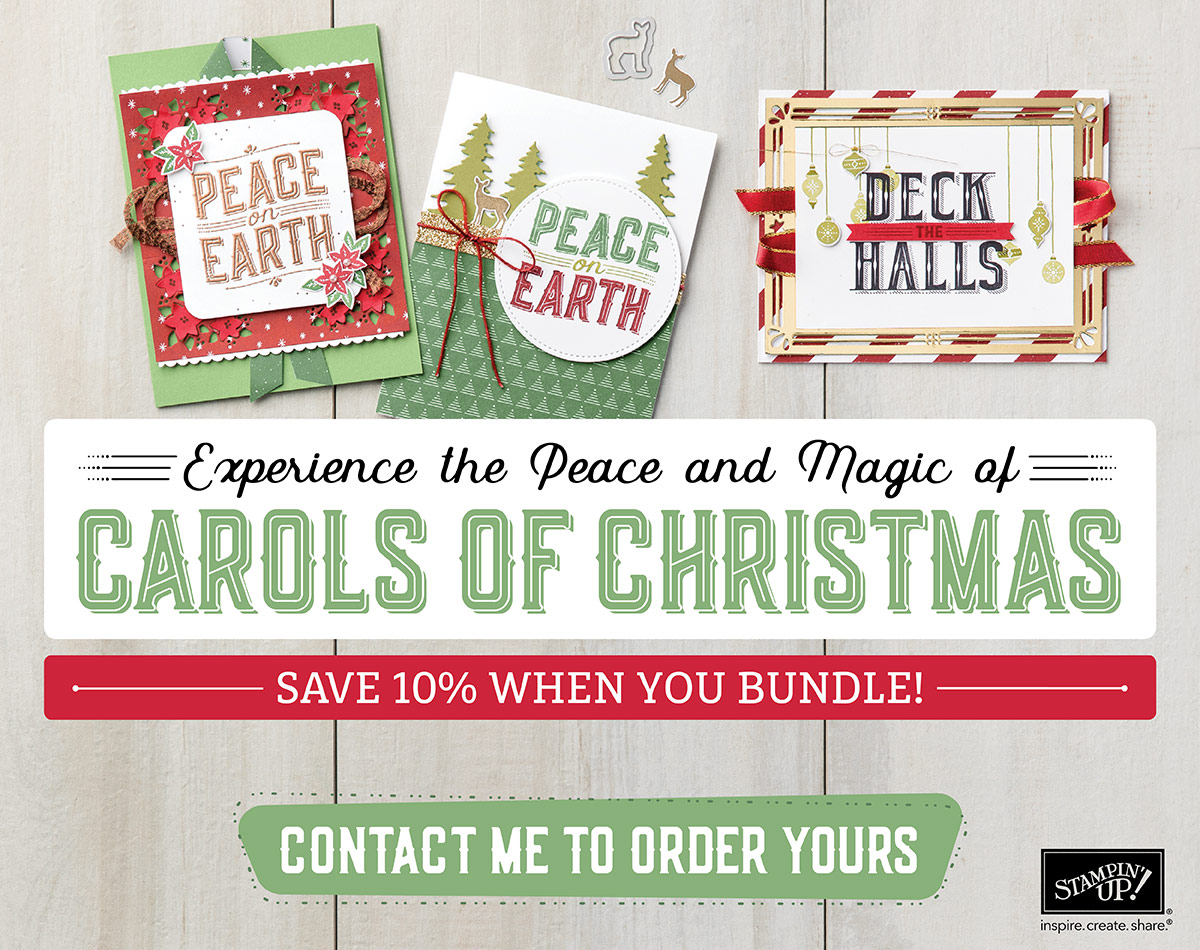 Get the  Carols of Christmas Stamp Set and the Card Front Builder Framelits Dies together in a Bundle and save 10%!  You will have something new from the Holiday Catalog before the Holiday Catalog comes out!  Then you can make a Christmas card With the Carols of Christmas Bundle like I have!