The new Stampin' Up! Button Buddies stamp set is really fun to play with!  In the newest edition of Stampin' Success, the Stampin' Up! publication for demonstrators (and one of the many reasons to become a Stampin' Up! demonstrator!) the Button Buddies stamp set was featured.  I loved the card with cherries on it but I liked the snowman stamp featured on a little box.  So I decided to make this card, somewhat copying the cherry one in the magazine. (You don't even need to be creative to be a Stampin' Up! demonstrator….this magazine gives you more ideas than you can use!)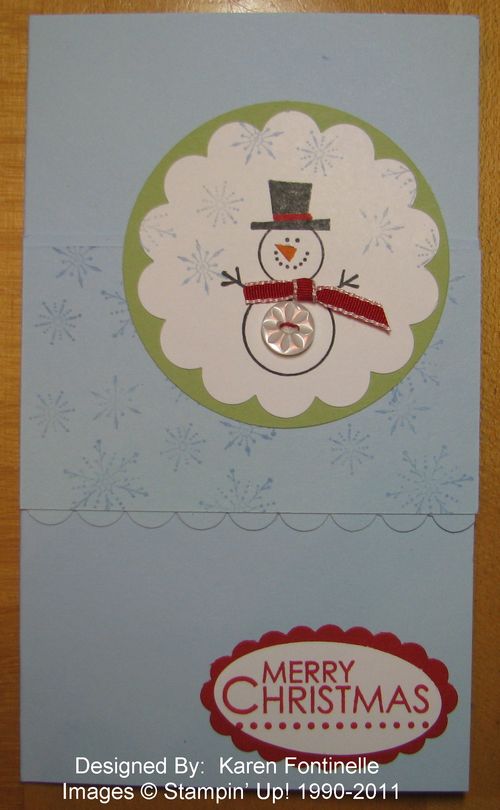 But I didn't like it so much!  I thought the Certainly Celery layer behind the snowman would give the card that soft look, but when I had to cover up the messed up stamped greeting right on the card in the lower right with the punched pieces, I guess I should have used Certainly Celery again for the scallop punch.  I didn't like the red down there and the light green up above.  Anyway, I just didn't like the card.
So I made this instead: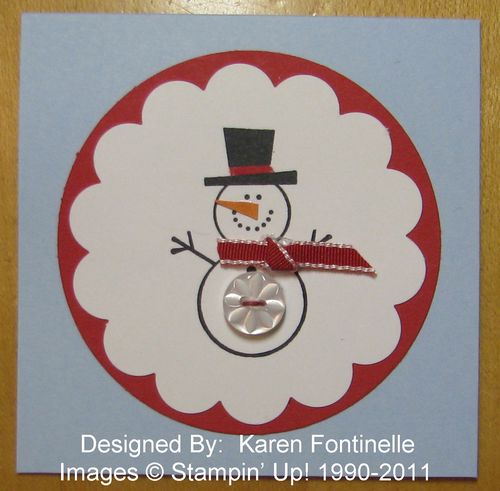 It's just a little 3"x 3" card but I loved it!  So cute! (I think that particular button is a retired one.)  You could make it as just a tag for Christmas gifts or make a large size card with a greeting.  Fun to make and easy to do!
To order the Button Buddies stamp set in either wood-mount or clear, just go to my Online Store by clicking THIS LINK.  Don't forget to order some buttons, too….lots of them, because once you start making Button Buddies, you probably can't stop!