Have a beautiful baby in your life to whom you need to send a card?  This stamp, "Beautiful Baby", is one you can get free with a $40 order on the "Get Connected" Stampin' Up! Promotion from the Occasions Mini.  This selection of stamps can be found on the last page of the Idea Book & Catalog.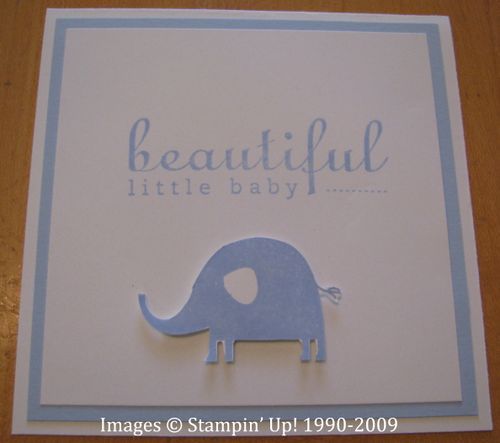 This card is 4 1/4 x 4 1/4 but you could make it any size.  Even smaller with just the words would be fine, perhaps a 3×3 with just the words stamped for a gift card.  The cute elephant is from "Nursery Necessities", cut out and adhered with Dimensionals.  I thought about putting little stars on the sides of the elephant or little blue buttons, but decided I liked the plain and simple look.  You could also just stamp the elephant on the card and not have to cut out.  Our paper snips scissors are perfect for intricate cutting like this.
This is the last few days for this promotion, so contact me soon if you want to place your order and get something FREE with "Get Connected"!