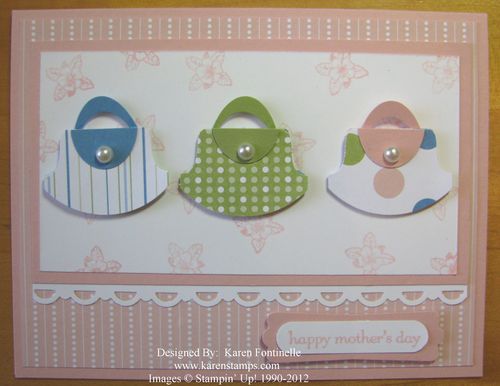 Mother's Day is coming up on Sunday, May 13th, so here is an idea for a Mother's Day card for you. One time in a stamp camp my stampers made a similar card using the Round Tab punch #119864 (it's retiring!) to make these purses, and I think it is one of the most memorable cards. Everybody liked it and people still remember making that cute card! Just think of the interchangeable purses and designs you can make with this Round Tab Punch! (if you get it before it retires!)
For this card I used Blushing Bride (a retiring In Color) as the card base and Nursery Nest Designer Series Paper #122347 (not necessarily just for babies!) And I made my own little designer paper by stamping a flower from Clearly For You with Blushing Bride ink.
To make the little purses, just punch your paper with the Round Tab Punch.  Either fold in half or cut in half to get the purse shape. For the little purse flap, I punched a portion of the Small Oval Punch #120908. Making the purse strap was a little more difficult since we no longer have the smaller oval punch.  But I punched a portion with the Large Oval Punch #119855 and then punched again with the same punch, just up a little higher (look at the underside of your punch) to make the handle.  It makes very skinny sides of the straps, but that's what I did.  You could also just cut out with scissors.
You could make this card for several other occasions….just change the greeting!
You can check all the Stampin' Up! Retiring Products by clicking the link on the right sidebar!