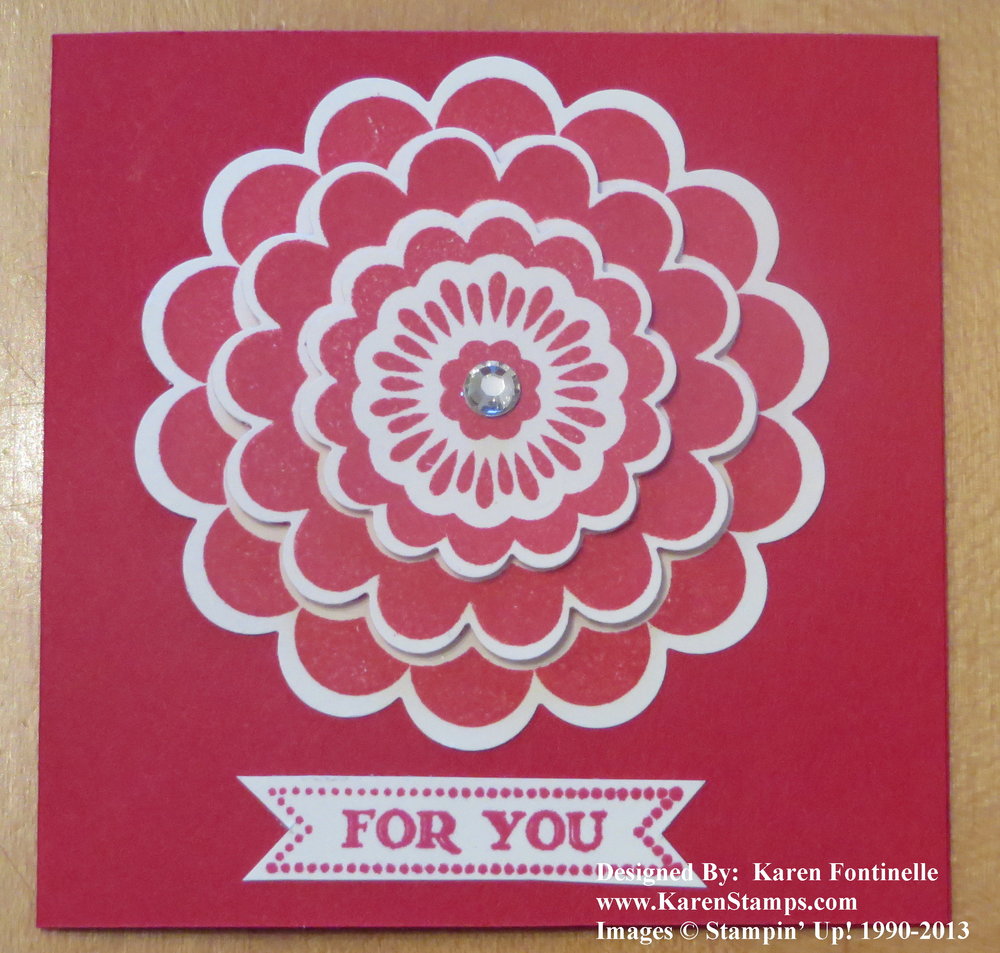 Sometimes you don't have to look far for creative inspiration! Sometimes it is as close as the scraps on your table!
I had stamped the Five-Way Flower several times with my new stamp set and also had some Real Red card stock scraps laying out. The card stock scrap looked pretty close to a 3″ x 6″ strip to trim, fold, and make into a notecard, and the Real Red stamped flower looked good on it since the Very Vanilla edges provided a contrast. Voila!  A little notecard just that easy!
The Five-Way Flower is a single stamp in the new catalog. When you look at it closely, you realize it is made for several scallop circle punches, probably already in your collection! Stamp the flower several times and then punch different size scallops to layer to build up the flower.  Separate the layers with a Stampin' Dimensional. Or just stamp the flower and leave it as is!  I added a Rhinestone Basic Jewel to the center. You could also punch a different colored center or use a pearl or whatever you like.
I only had room for a small greeting (you wouldn't have to have one) so I chose one from Itty Bitty Banners and just cut it out by hand (although there are matching framelits you can use!) (and the new Magnetic Platform would be super-duper for these!)
Such a simple little thing to make and yet it was so easy and most importantly, made me happy to make it!
Please visit my Stampin' Up! Online Store to purchase any stamping, scrapbooking, and papercrafting supplies you may need!