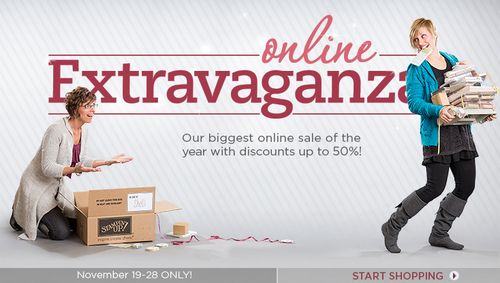 With Black Friday pretty much extending through the whole weekend, today being Small Business Saturday and Monday being Cyber Monday, this is quite the weekend for shopping. I've always thought it was rather crazy when people would camp out right after Thanksgiving dinner to be first in line on Black Friday, but this year that has been taken to new extremes.  Here there were people camping out ALL WEEK in line at Best Buy to be first in line to buy that $200 TV or whatever doorbusters they thought they had to have. In fact, one family that was interviewed said this is now their Thanksgiving tradition….they have their Thanksgiving dinner while camped out in line in front of the store!!!  Really???!!
Well, Stampin' Up! makes shopping way easier than all that!! You don't have to camp out in front of Stampin' Up! or even my house to get some good deals on Stampin' Up! products! The Stampin' Up! Online Extravaganza started early before Black Friday, and to give you plenty of time goes on past Cyber Monday….until Wed. Nov. 28th. You'll be able to get any of the discounts from 20% – 50% off at your convenience either online or by contacting me….with no camping out on a sidewalk! And I bet your Stampin' Up! purchases will be much better quality than the deals that some of these stores are offering! There are no cheap versions of stamping supplies made just to get you "in the store" in hopes you will buy something bigger and better. It's all the same stamps and accessories we can always buy, backed by the Stampin' Up! reputation, just discounted to make shopping fun!
Don't miss out on these discounts!  Even though they are out there longer than a weekend, don't let the time pass.  They will end on Wednesday, Nov. 28 so don't wait until the last minute and risk a computer snafu or unexpected company or something else that happens to prevent you from ordering!
Shop the Stampin' Up! Online Extravaganza right now from the comfort of your computer chair!   No tents on sidewalks! This is shopping at its best!