This week I was bitten by the flu bug that is going around, but it's finally starting to go away….slowly! At least I can post something on my blog without fear of spreading germs. Fortunately I held a Valentine Stamp Camp before I got sick, or had any idea I was going to get sick, or I would feel even worse that I hadn't gotten to stamp valentines with my friends.
Here is one of the candy items we made at the stamp camp. I saw the idea and directions by Menolly13 on SCS and changed mine a little to incorporate certain products and a Valentine's theme.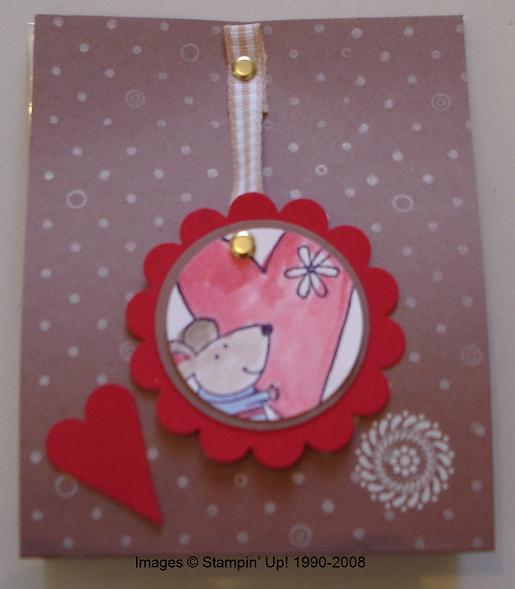 This is just a strip of Close to Cocoa cardstock, folded in the shape of a "W" with a small cello bag of candy inside, held together with the little brad at the top. The cardstock is 3×8.5". I stamped all over with the dots from Polka Dots and Paisley and White Craft Ink. It is then scored at 3.75, 4.25, and 4.75 then folded so that little W shape is at the bottom of the inside. Take your
1 3/8" circle punch and slide in from the side all the way. That will center it on your strip. Punch the circle and save this piece as a layer. I stamped the mouse and heart with the Happy Heart Day set and used the 1 1/4" circle punch to punch out a portion of the image. I also wanted to use the Scallop Circle Punch so I punched a scallop out of Real Red.
Here's a cute trick with the scallop punch. With another red scallop, I cut it in half, then marked the midpoint of the cut side. From that midpoint, you can cut up toward the scallops and make yourself a little heart! We loved them at the stamp camp!
I also wanted everyone to try their hand at using the new Rub ons, so everyone chose something from the sheet and applied it to their candy holder. You can see mine, the little white design.
To finish up, I just took a piece of gingham ribbon, attached to the scallop with a gold brad and folded the ribbon over for the top and inserted another brad through the ribbon, the cardstock, the cello bag of candy on the inside and of course, the back of the strip of cardstock. Really easy in spite of this long description!