Here is a 12×12 scrapbook page I made with the new download for My Digital Studio, Travel Journal Digital Kit #121071.  The photos are from our trip two years ago to Yellowstone National Park.  This is the next day after we arrived.  You pass through Grand Teton National Park on the way to Yellowstone from Jackson Hole, WY.  The whole area is just fabulous, if you're looking for vacation ideas for this summer!  It was still snowy when we arrived in almost the middle of June!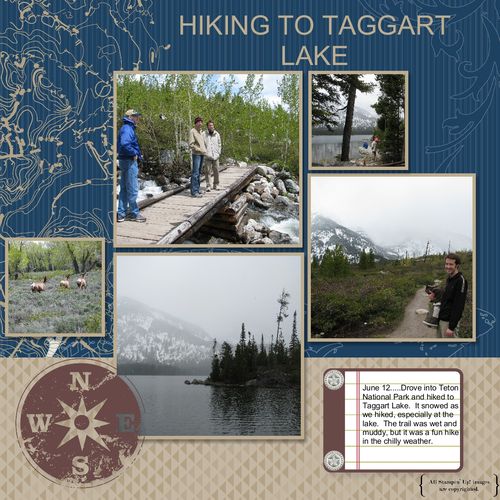 Although I started off with a designer template that didn't look at all like the great outdoors, I changed the background papers to the new ones in the Travel Journal Digital Kit.  The compass is also included in that kit.  I added the journaling element from another designer kit and placed a text box over that so I could write about our hike that day.
If you want to easily scrap your vacation pictures this summer, check out My Digital Studio.  You can load it on your laptop and do a page a night while on vacation!  Just order HERE!