Who knows where Tell a Joke Day came from, but a Friday is a great day for telling a joke! See if you can tell one of your favorite ones!
A little boy said to his teacher, "Mrs. Smith, I ain't got no crayons!" His teacher said, "Young man, you mean 'I don't have any crayons.  You don't have any crayons. We don't have any crayons.' Do you see what I am getting at?"   "I think so," said the little boy. "What happened to all the crayons?"
And usually a family has silly jokes that mean nothing to anybody else and don't make any sense. Here is one of ours.
My parents were here visiting when my daughter was very little. I forget if Grandpa was teaching her some jokes or if she was telling him a joke, but this is what she came up with:
"Why did the chicken cross the road?  To throw a tomato at the duck!"
For some reason, that stuck and has been a classic saying in our family ever since! This is something that should be written down at the time so you can remember the story precisely thirty years later! As busy as you young mothers are, try to take a second and write down these little moments because they will be treasures in later years!
******************
Here's something that is NOT a joke!  Try out Paper Pumpkin from Stampin' Up! for only $10 a month for the first two months! Speaking of having fun telling jokes, get a fun surprise in the mail once a month when your cute red box arrives with a quick and easy papercrafting project inside!  Everything you need except adhesive is included.  The first month you subscribe you will get the first kit which includes a clear block to use for all your stamps in future kits. You can pause or cancel your subscription at any time.  Just remember by the 10th of any month is when you need to subscribe or make any changes in order for it to take effect THAT month; otherwise the change will take place the following month.  Subscribe by August 31 and take advantage of the special price of $10 a month for the first two months by using the Promo Code:  PUMPKINDEAL 
Click JOIN, put in your QUANTITY, and then click on "Add Promo Code" just below.  Type in PUMPKINDEAL.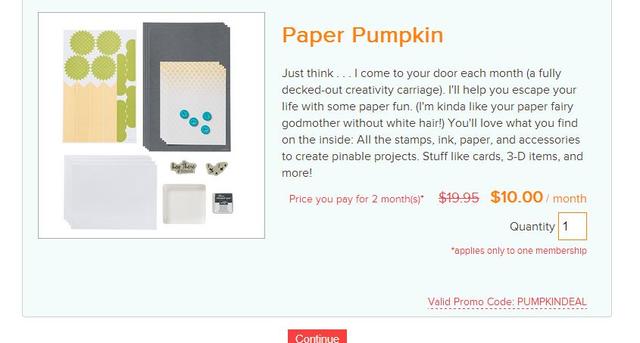 Click Continue, and you should see your discount applied at the top of the shipping address section.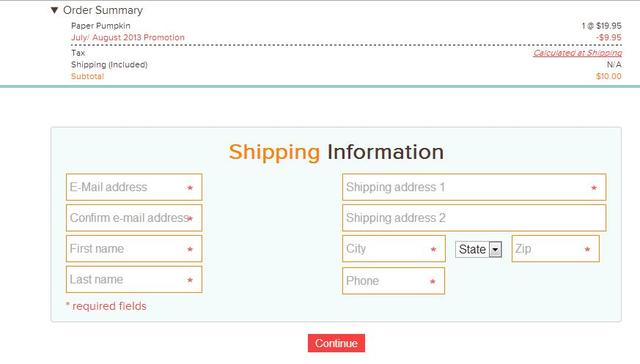 If you subscribe between now and August 31, you will get this special price for two months with your first kit arriving mid-September! After two months, the regular price of $19.95 will apply. Both prices already include shipping!
Go now to the cute Paper Pumpkin website HERE and subscribe for only $10 using the code PUMPKINDEAL so you won't forget and will be sure to get your kit next month!!