This is something I have been doing for awhile but just realized it might be a tip worth sharing.  When I go to work with my Stampin' Up! Designer Series Papers (DSP), I like to know what colors coordinate with each pack.  Stampin' Up! now provides that information under each DSP item in the catalog (did you notice that?).  Usually I also have a list that another demo somewhere has compiled of all the papers and colors that I try to keep handy.  But sometimes you want it even handier!  So I write the coordinating colors on the back cardboard of the DSP pack, right above the name of the paper.  That way the information is right at hand!
This photo shows the selections for the new "Tall Tales" Designer Series Paper that coordinates with the stamp set "Animal Stories".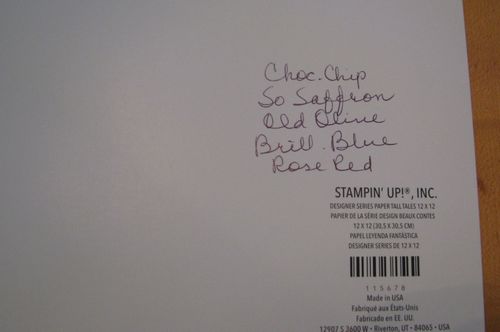 And when the paper retires, I still have that information handy, as long as I have that cardboard in the back of the package and still have some paper left……and we all know we wouldn't want to use up ALL of our paper!  :)  Better to hoard extras just in case we need it!!
If you need some of the NEW Designer Series papers, please contact me at KSFontinelle@gmail.com or order online at my store at www.karenfontinelle.stampinup.net.  Click the "Shop Now" button!  You KNOW you need it all!