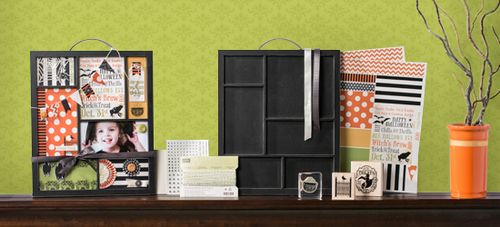 Stampin' Up! always offers one of the best opportunities to start your own business and realize your goals that you set for yourself.
To become a Stampin' Up! Demonstrator and start your own business, all you have to do is purchase the customizable Starter Kit.  You choose $125 worth of product of your choice and pay only $99! Choose from the annual Stampin' Up! Catalog or the current Holiday Catalog.  Choose traditional stamping products or digital…or both!  It's your choice with this new Starter Kit!  Plus you will also receive a Business Pack valued at around $50 to help you get your business off to the start you want.
As an added bonus during August, a new demonstrator would also receive the above pictured Howl-o-ween Project Kit and Printer's Tray.  Due to the great response, Stampin' Up! has decided to extend this special offer until Sept. 16! If you're not into Halloween, use the printer's tray for Christmas or just any project!  Have fun with creativity! This kit will ship with your Starter Kit.
Should you become a Stampin' Up! Demonstrator just to get this cute kit?  Probably not. But if joining Stampin' Up! was something you've been considering, starting your own business to make some extra money for your family, earning some extra money for the holidays, finding a new outlet for your creativity, finding something new for this time in your life….then go ahead and join and just for a fun extra, get this fabulous Spooktacular project!  I guarantee you will always treasure it as a reminder of the day you became a Stampin' Up! Demonstrator!!
For more information about becoming a Stampin' Up! Demonstrator, check out the information from Stampin' Up! here. And after doing your own research for a preview, please contact me and ask me any questions you have.
If you are reading my blog, you must have an interest in papercrafting and creating, and you can probably tell how much I enjoy and love Stampin' Up! and the opportunities this company provides.  When the time is right for you and your family, it is easy to sign up online….you don't even have to mail in papers and wait…although you can…but if you sign up online you can become a demonstrator in minutes!
Think about it and let me know how I can help!