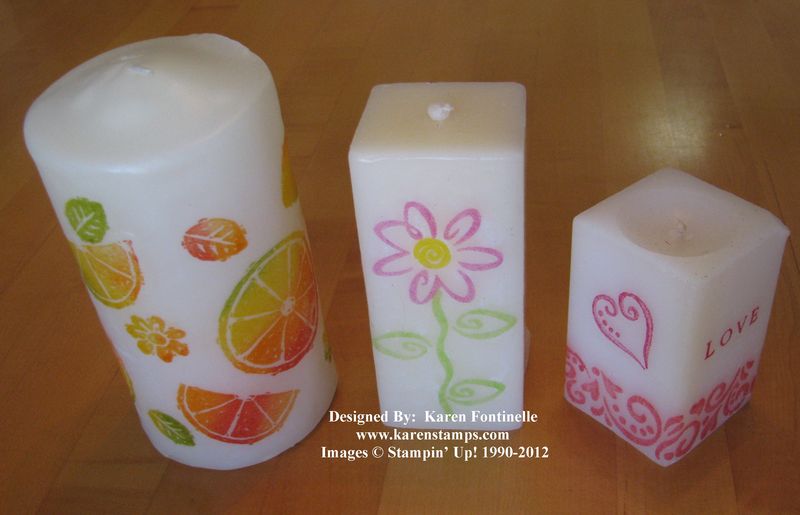 Look what I found! Some OLD Stampin' Up! stamped candles! The other day I did a little "cleaning" in my front bedroom where I stash all my retired stamping products and all my unfinished craft projects and materials from before my Stampin' Up! days. I found these candles in a drawer, but what is interesting are the old Stampin' Up! images from back when I became a Stampin' Up! Demonstrator.
The fruit images are from a stamp set called "Citrus & Such" and stamped with the old Spectrum ink pads, which were a strip of several colors of ink so you could get a multi-colored image. The flower on the candle in the middle was perhaps in my Starter Kit when I signed up, "Fresh Flowers". Not much choice, if any, back then of what you got in your Starter Kit! The last candle has a heart from "Love Always" and the bottom border is a wheel called "Love Swirls". I think my upline made that one for me.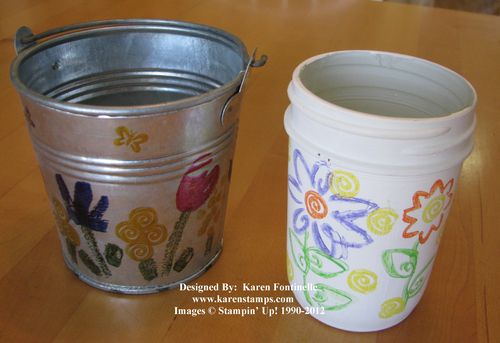 And just a couple more nostalgic items:  a small tin bucket stamped with a variety of stamps and an old jar, painted, and then stamped with Fresh Flowers. I think my stamping, and everyone's, has come a long way in ten years!
I'm sure any demonstrator or stamper who has been around Stampin' Up! for awhile will recognize these old images!  I think maybe the first stamp sets you start out with become near and dear to your heart forever!
To start your journey with Stampin' Up!, check out the fully customizable and affordable Starter Kit for only $99!