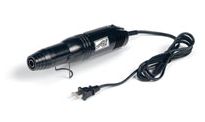 You probably are familiar with the Stampin' Up! Heat Tool #100005 for embossing or using Heat & Stick powder.  Sometimes it is used for quickly drying ink, particularly craft ink.  I've also told you how handy it is to unstick Sticky Strip on a project like in this old post HERE.  
Well, today I used my Heat Tool to unstick self-adhesive postage stamps! Over a year ago when I was putting postage on wedding invitations and putting on too much, I pulled off the extra stamps and tried to save them (at $.44 each!). I stuck them on to the sort of waxy envelope from the post office that the stamps came in, hoping they wouldn't stick for good on there.  I've pulled off as many of the stamps as I easily could the past year, but now I'm down to the ones that seemed really stuck on.  So today I turned on my Heat Tool and blasted a stamp…..it came off easily and I was able to reuse it on my current mail!  Just to be on the safe side, I used a drop of Multipurpose Liquid Glue to make sure the stamp didn't come off the envelope.
So Stampin' Up! supplies aren't just for stamping anymore!
Need a high quality Heat Tool?  Here's the Stampin' Up! one!  And you might want to pick up some of our great embossing powders, too HERE.
(Don't forget to check the bargains on the Clearance Rack as well!