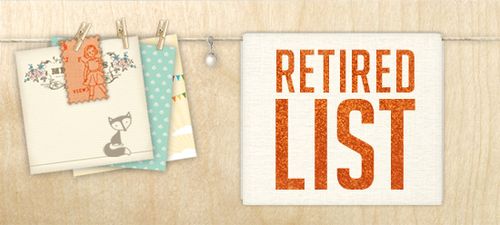 It's hard to believe that our beloved current Stampin' Up! catalog is just about over…..although we all are certainly excited for the brand new Stampin' Up! catalog to make it's debut on Friday, June 1st!
But now is the time to take action, if you have been waiting! This is the last few days of being able to purchase any of the retiring stamps or accessories.  This retired list will come to an end on Thursday, May 31st. You can place your own order online HERE or you can call or email me (Karen@KarenStamps.com) with your order and I can do it for you.
Here are some items to take note of in case they interest you. Remember, anything other than stamps (which Stampin' Up! manufactures themselves) are only available while supplies last.
All of the Definitely Decorative line is retiring. (click the 

Show: ALL option to easily view all the items).  This is mainly the vinyl decor elements to put on walls and many other places BUT it also includes products like the

Decor Blocks

#

116829, the

Simply Adorned jewelry (but not just for jewelry!) line, some trinkets, and stencils. Be sure to check the whole listing.
My Digital Studio Content Discs:  These are priced at 60% off so they are a great deal.  If you are considering getting My Digital Studio any time in the future, you should get these now because nothing on My Digital Studio really retires!  You will have tons of extra artwork to play with!  Even at full price, the collection was priced at 10% less than purchasing the downloads separately. Note: Purchase My Digital Studio NOW and when the new version comes out, you will get it FREE!
The Build a Bear line is retiring! Be sure to get it while you can. Some items are even discounted!

There are many things at the beginning of the Retired Accessories List that are discounted 25% or more!  Be sure to check those out.
Here are the lists!  Be sure you make them a part of your weekend reading!
Retiring Accessories (be sure to notice the discounts!)
Retiring Definitely Decorative
Easiest Way to View All the Retiring Items in My Store! 
Remember, if you have an order of $150 or more, be sure you go to the link above where you will see my name in the upper right corner so that you receive your Hostess Rewards.  The order should prompt you when it is time to enter your free Hostess Rewards.  DON'T go to www.stampinup.com and choose me as your demonstrator…you won't get the same benefits.  Also, if you order online, you can check and order from the Clearance Rack! Don't miss it!
If you have any questions or problems, let me know! Last day to order is Thursday, May 31st!  New catalog starts Friday, June 1st!