Another baby shower gift idea might be something like this:   A decorative tin, notebook and pen.  It is decorated for the nursery and is a handy way for the new parents to write quick notes about the baby and later add them to the baby book.  We parents know how harried the first weeks (and years!) are, and yet you want to remember all those special, fun, and funny moments.  I've also used new paint cans wrapped with designer paper or cardstock in a similar fashion.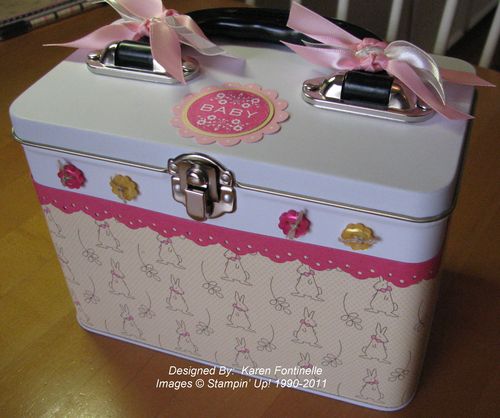 On this tin, I used designer paper from Nursery Suite Specialty Paper #117165 (the bunny paper in this package is SOOO CUTE!), some Eyelet Border #119853 punched Melon Mambo cardstock for trim, Ice Cream Parlor Buttons #123529 from the Sale-a-Bration catalog, a little stamped medallion on top and ribbon tied on the handle.  I've always had good luck with our Stampin' Up! Anywhere Glue Sticks #104045 on projects like this.  I apply the glue to the paper as well as to the tin.
And here is the cute little notebook, just covered with some matching paper and ribbon.  The pen is an RSVP Pen….just unscrew the top, pull out the ink cartridge, wrap a 1"x3" piece of designer paper tightly and stuff down into the barrel of the pen.  You'll have to shove it the last little bit but you can get it in there.  Insert the ink cartridge into the center of the wrapped paper and replace the top.  Very cute!