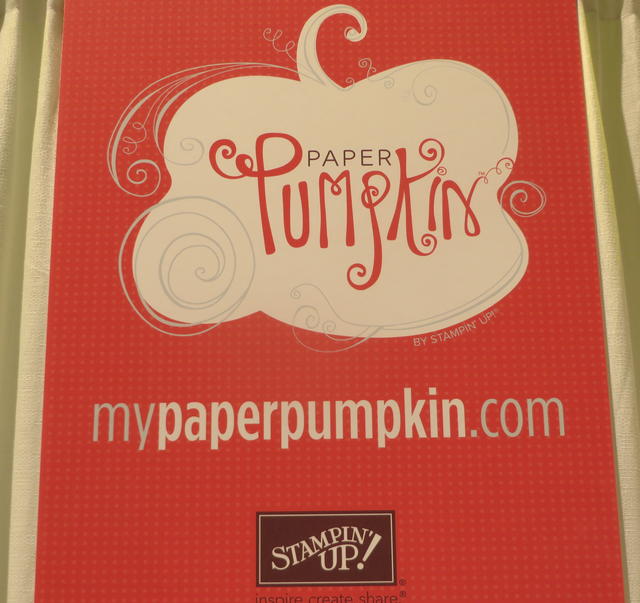 One of the many fun things at Stampin' Up! Leadership 2014 was visiting the Paper Pumpkin booth. Paper Pumpkin is the monthly subscription program from Stampin' Up! Sign up and every month (unless you "pause" or cancel) you will receive the cutest red box with a papercrafting project inside. And it's not always a card either! Everything you need except adhesive will be included. The idea is for you to take thirty minutes or less to sit down and enjoy an easy to make craft project! And who shouldn't take at least that long to do something good for themselves!
In the booth they had samples posted of the past Paper Pumpkin kits and facts and information about the subscription program. But the best part of the booth was the Sneak Peek!  Literally, we could go "behind the curtain" and check out the upcoming Paper Pumpkin Kits!  Let's just say you probably want to get your name on that subscription list! The first kit a new subscriber will receive is the Welcome Kit that comes with a clear block you will need for your stamps in the following kits! After that you will receive the same kits as everyone else.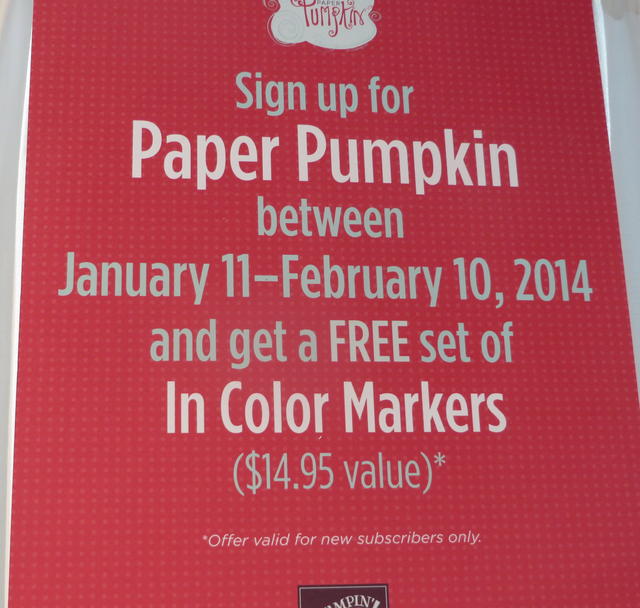 AND – the best part for YOU is that if you subscribe to Paper Pumpkin by February 10, you will get a Free set of 2012-14 In Color Markers. You can see them HERE. Do it right away so you won't forget! If you need help, please let me know.
You are not charged for Paper Pumpkin until it ships.  Once it ships, you get a cute little email saying it is on it's way! See the Welcome Kit HERE.
Click on this link to sign up:   Paper Pumpkin
Everyone who signs up with me as their Demonstrator gets a special Paper Pumpkin thank you card from me! Do it now!  It will be your fun treat every month!
The other fun thing about the Paper Pumpkin booth was the Craft War!  We could use any of the stamps from the past Paper Pumpkin kits plus new paper and accessories from the Occasions Catalog to make a card for a contest!  They chose 20 winners.  Here is my card!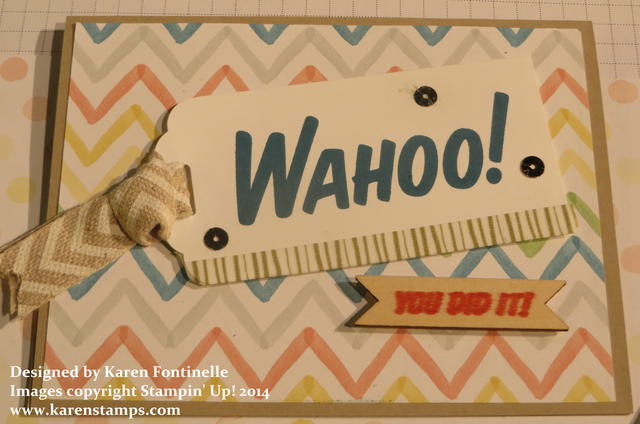 I wasn't one of the 20 winners!  (Obviously my card came in 21st probably! ) No, I'm sure with all the talent at the Leadership Conference there were better cards created than mine! I hope they will publish all the cards at some point so I can see what everyone made.  It was so fun!
If you were a previous subscriber and want to sign up again, you will need a new email to set up a new account in order to get the markers.  It is for completely new subscribers only. However, you will receive the Welcome Kit again as well. If you have subscribed before and use the same email, you will receive the new kits, but no markers.  Questions?
Go ahead, take the plunge.  Sign up for Paper Pumpkin right now!  You deserve it! (And you get FREE markers!  Who wouldn't want FREE Stampin' Up! Markers?!)