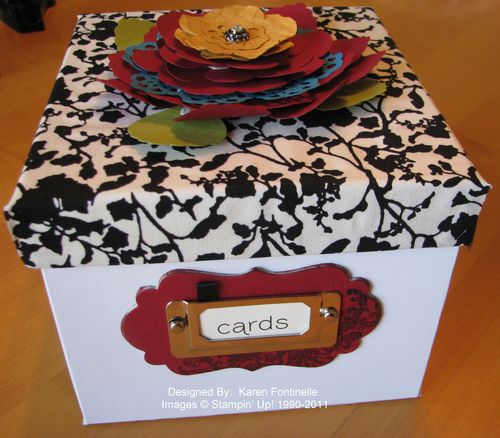 I finally got around to finishing my Make & Takes from the Stampin' Up! Convention in July!  Make & Takes are the projects Stampin' Up! gives us to actually "stamp" at the "stamping" convention.  I'm just not very good at doing the projects during the allotted time….I don't know why….I feel like everyone else understands the directions better, is working faster, etc. etc.  Too much pressure!!  I know at least some other demonstrators feel the same way so I know it's not just me!  I much prefer to do them at my kitchen table provided I have all the supplies at home. Besides, the morning my Make & Takes were scheduled I was VERY tired and was worried about getting my photos taken of the display boards.  So after partially making ONE card, I packed up my stuff, walked all the way back to the hotel from the far corner of the convention center to get rid of my stamp sets and supply packets and walked all the way back to the far corner of the convention center to take my pictures.  And then I was happy (if not more tired!)  But with kitchen remodeling and vacations, it has taken awhile to get to do my Make & Takes!
This is a box that will be in the new Holiday Mini Catalog coming out Sept. 1st called "Stampin' Card Keeper". It's very sturdy and very nice quality.  It comes flat so you just have to assemble it and then you can decorate it any way you like.  This lid here is covered with the new Timeless Portrait Fabric (using Sticky Strip to adhere). Patterns come with the box for covering it, even the sides if you wish.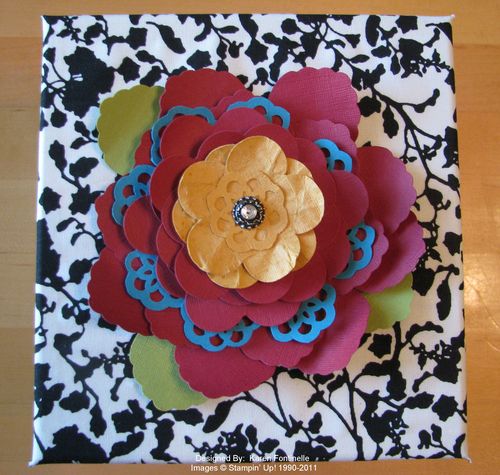 Here's the gorgeous paper flower on the top of the lid.  It's made from various punches out of textured card stock….the Fancy Flower Punch, Lace Ribbon Border Punch (the flowers are cut apart) , and the Blossoms Petals Builder Punch.  It's all actually made out of two stacks of assembled flowers and then all stacked together.
I did make one change.  Stampin' Up! gave us in our kit a Simply Adorned Clear Crystal Bauble for the center of the flower….but the crystal is so pretty I wanted to use it on my Simply Adorned Jewelry so I made an alternate flower center!  Mine is an Antique Brad with a Rhinestone Jewel in the center for some bling!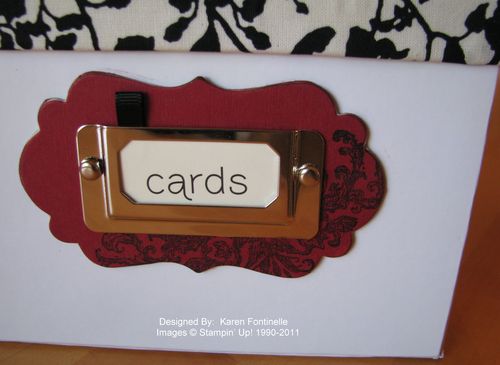 Cute label for the box using On Board Merry Medley chipboard and the stamp set Best Friends Forever.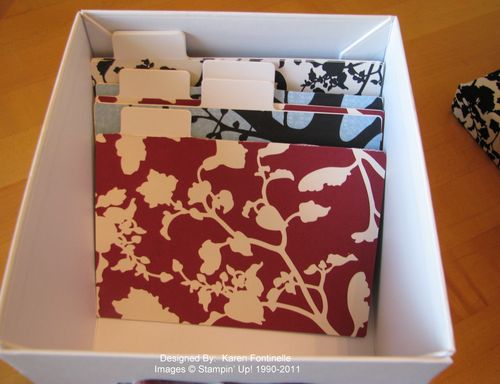 Six dividers for organization, covered with the Timeless Portrait Designer Series Paper.
 You'll be able to order your Stampin' Card Keeper box #124107 when the Holiday Mini comes out on Sept. 1st!