Now that Valentine's Day is over, it is time to start thinking about spring!  No matter how cold it still is outside!  Even here in Houston it is close to freezing every morning, although the day usually turns out nice if the sun comes out!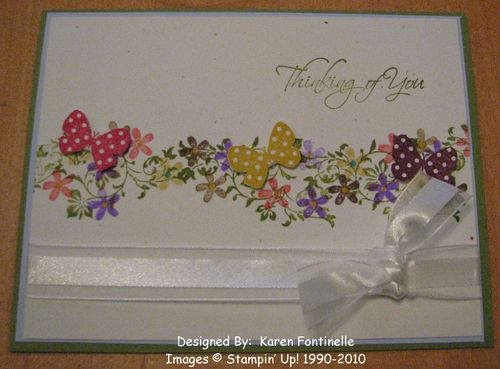 This is a fairly easy card to make, except for cutting out the little butterflies!  But don't worry about it, just do it.  Even if they are not perfect they will be fine! Paper Snips (#103579) make cutting out much easier!  For a change, I used the Confetti White card stock (#102028).  It used to be one of my favorites, but I haven't used it in awhile.  It's also pretty good for watercoloring and just has a little more elegant look maybe than Whisper White with the little flecks in it.
Get out that fantastic new set in the Occasions Mini, Vintage Vogue, and stamp a few green vines and leaves going across the paper.  Then I went back over with a little flower from Flight of the Butterfly in the Idea Book & Catalog and stamped in various colors.  I used the little butterfly stamp in that same set for the three little butterflies which are then cut out by hand and mounted on Dimensionals.  Tie a pretty Whisper White Organza Ribbon around, stamp a sentiment, and you've got yourself a card!
It's time to get started on spring stamping projects, so contact me to help you with your selections!