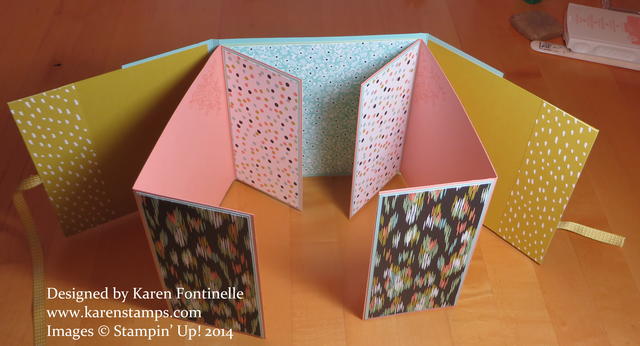 This flip album is something I haven't made in several years, but I've always thought it was one of the neatest ideas ever! This one is going to be a gift, hopefully. It's not even that hard to make, although it appears to be very complicated.  I think these albums are so much fun! I'm not sure what the official name of it is, but I think I've always known it as a Flip Album and there are other variations.
This flip album isn't finished yet, but it is the basic layout. Now I need to go through and add some embellishments of some kind. But since the pages are relatively small, I don't want to add too much and not leave room for photos.  I will post pictures when I finish it up. The paper I used is the beautiful paper from Sale-A-Bration 2014 called Sweet Sorbet. I chose that based on my paper supplies and what I thought the person would like who I plan to give this album to. You do need some 12×12 paper in order to make this.
So now I need to go finish up my little flip album and hopefully get it in the mail today!
Why don't you take an old idea and make something new with it today?!
For any stamping supplies, retiring products, Weekly Deals, the new Endless Birthday Wishes Photopolymer Stamp Set, please visit my Stampin' Up! Online Store.