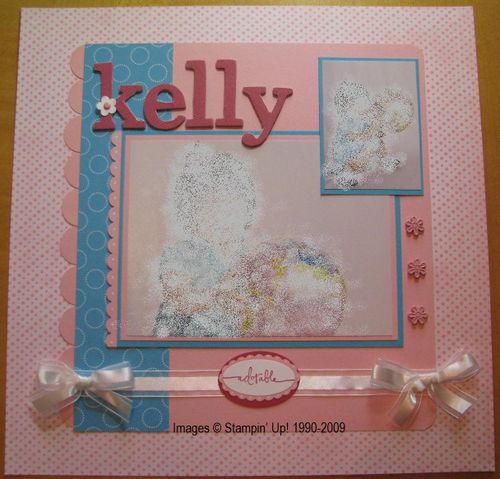 I was asked to do another scrapbook page, essentially, with some baby photos just like THIS post.  Again, I forgot to photograph the page before putting on the photo so I had to obscure the child's photo.  I wish you could see it because the expression on her face is so cute!  I wanted her expression to be the focal point of the page and had to hold myself back from adding too much to the page. 
It's funny how you build a page like this (or at least I do!)….try this, try that, what about this color, photo placement, and then what embellishments.  The base paper is from Tea Party Designer Series Paper and the base card stock is Pretty in Pink.  Since she is holding a ball, I wanted some circles on the page.  For the left hand scallop border, I just punched out lots of circles and placed them partly underneath the cardstock.  Then I covered that "seam" with the turquoise DSP from Rainbow Sherbet.  It matched her cute little dress and a color on the ball she is holding.  The scallop edge underneath the photo is made using the Stampin' Up! Scallop Edge Punch and I added some white dots with my Signo Gel Pen.  I wanted to add some chipboard letters for her name.  The On Board Timeless Type worked for that, and they were covered with some Raspberry Tart DSP (which matched a color on the ball and in the bow in her hair) using Stampin' Up! Glue Sticks.  I used the Flower Assortment Brads along the side of the photo, which added a little something without being too distracting.  I added the beautiful Whisper White Organza Ribbon across the bottom underneath the "adorable" from "Warm Words".  I'd played with adding flowers, especially the "Fleurettes", but they didn't seem quite right.  Finally I thought of adding the white bows as they are and that seemed to be the finishing touch!  It just shows that all you need to do is play around a little bit with scrapbooking and finally everything will come together!  This could be a scrapbook page but I put it in a 12×12 frame to hang on the wall.  I hope the recipient likes it!
If you need to order any of the supplies to make a page like this just go to My Website and click on the Shop Now button.  Or contact me if you have any questions about how to make this page or something similar.